Take a Local Staycation this Spring Break
Ask the experts!
Even though Sasquatch is a native of the Pacific Northwest, they've been hiding and don't know all Whatcom County has to offer. They are ready to come out of hiding and support local businesses but aren't quite sure where to go or what to do. With spring break coming up, they decided to ask the experts at Visit Bellingham | Whatcom County and Sustainable Connections about some ideas for a staycation.
Visit us on Facebook or Instagram to tell us your favorite Staycation spot with #StaycateLikeSquatch by April 12, 2021 for a chance to win a $100 Think Local First Gift Card.
Sasquatch: I've been trying to support my community more lately, but I'm not very familiar with how to "Staycate." How would I plan a staycation for Whatcom County?
VB: Great question, Squatch! It's amazing how you can live somewhere all your life and still discover it in a new way. Our first tip for traveling local is to gather any Think Local First gift cards you've received. No gift cards? No worries! You're saving money with no plane or long drive!
SC: Yes! Hundreds of local businesses accept the Think Local First Gift Cards, so definitely make sure you're not forgetting those! Also, staycations reduce your (big) footprint. We're so glad you're doing this, Sasquatch! 
Sasquatch: Is it safe to stay in a hotel? Are there lodging choices in Whatcom that are fur-friendly?
VB: It's easy to find a safe new getaway, a wondrous home away from home where someone else makes the bed and does the laundry. 
SC: No offense Squatch, but we call that "pet-friendly." It is actually pretty tough to find a local hotel that isn't pet-friendly. Hotel Bellwether even has a Canine Concierge named Bella (to be friends with, not as a snack), and Heliotrope Hotel has a dedicated space called "The Yard"  with a lawn, landscaping, outdoor lounge and a fire pit for all to enjoy.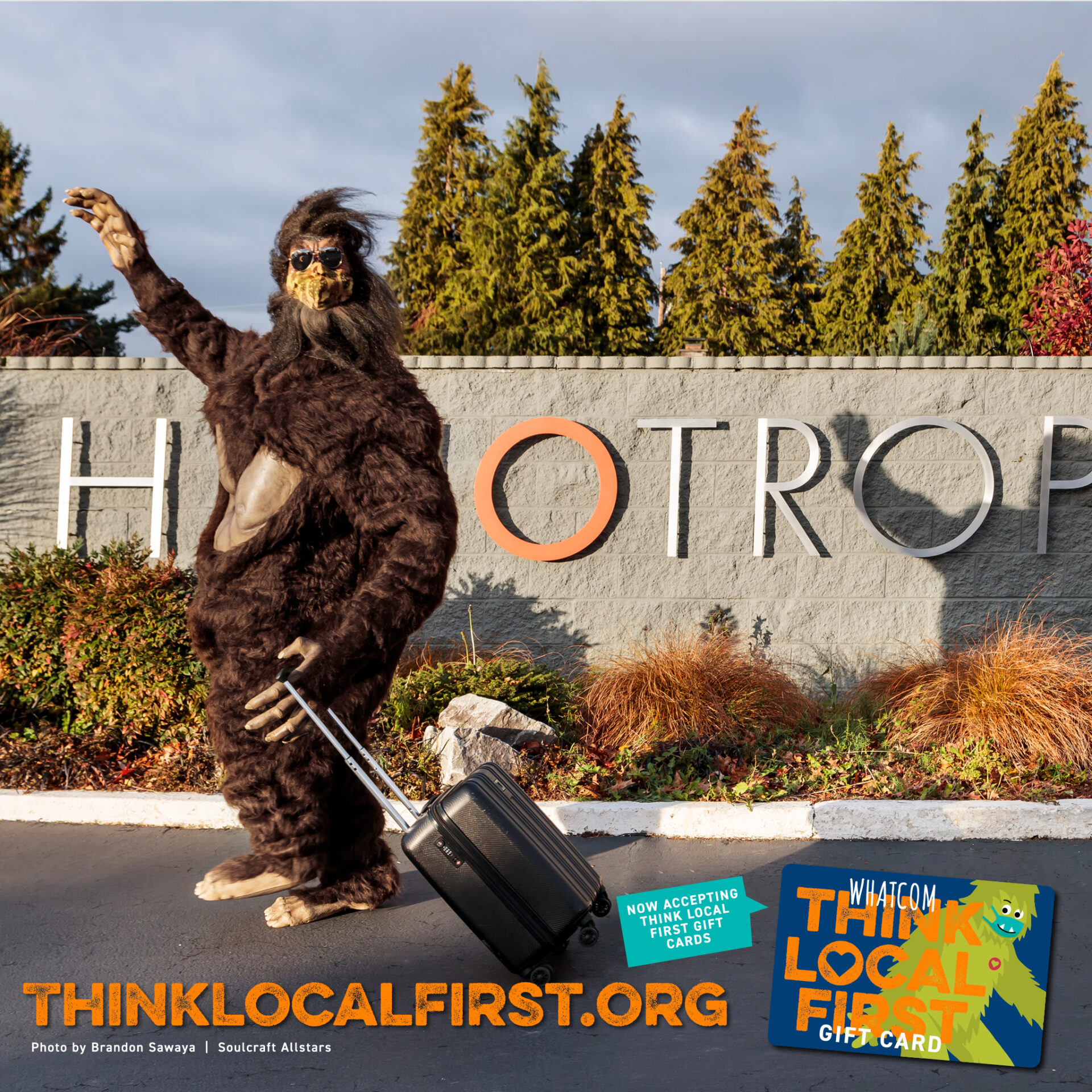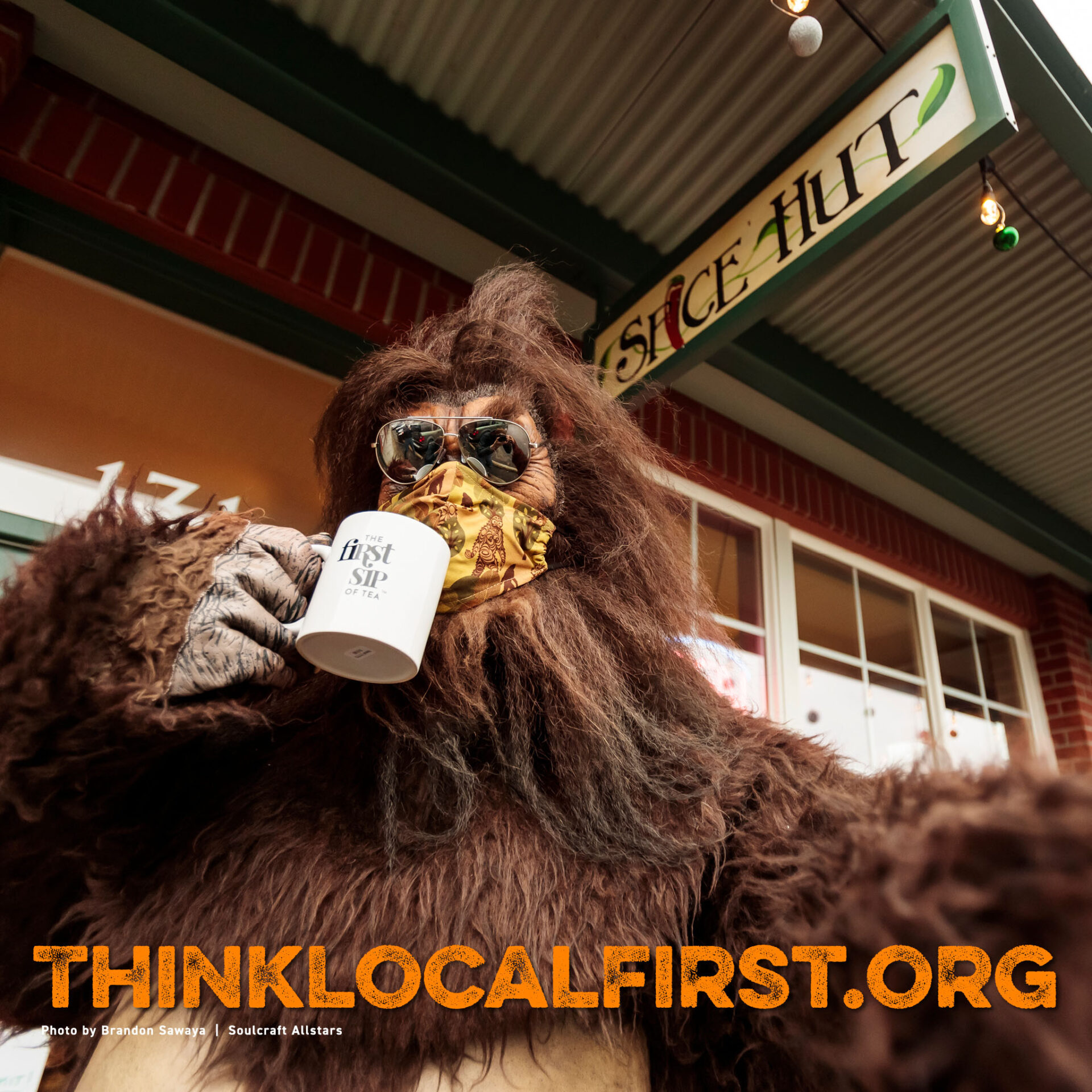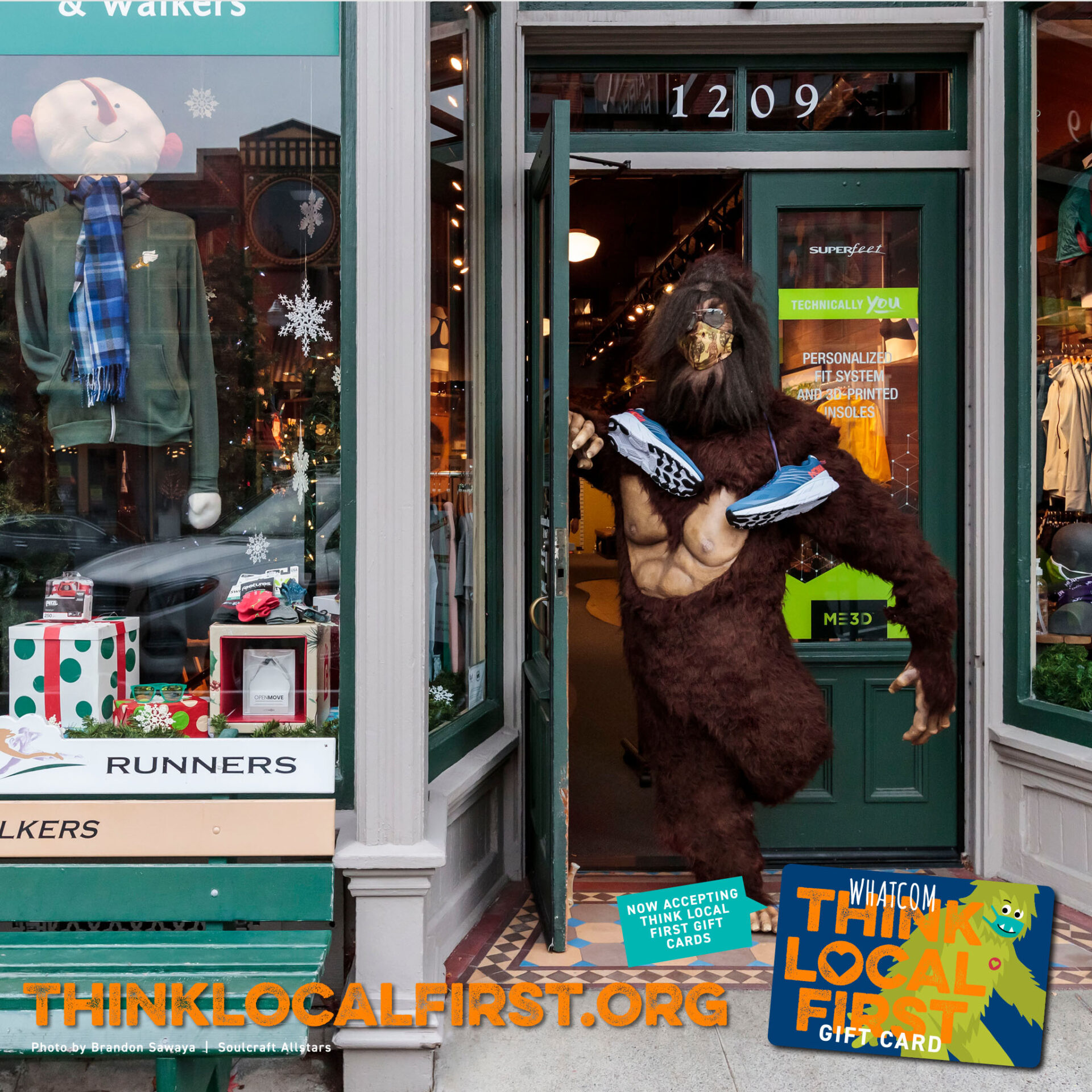 Sasquatch: I like to stay active when I'm on vacation. I am good at picking berries, wandering in the woods, playing with birds, and tromping through snow. Can you tell me how to do those things like a "tourist?" What is there to do around here besides play hide and seek in the woods?
VB: There are plenty of things to do outdoors:
Take a 

tour,

 like a tourist

!

 

Go by 

bike

, 

boat

,

 or even 

get 

some fun guided history

 on foot

. You'll be amazed what you "don't see" 

in the same things you're looking at 

every day when you're thinking about work, kids, or school.




 

Take a 

scenic drive!

We have two state scenic byways in Whatcom County:

Chuckanut

Drive and Mt. Baker Highway.

The North Cascades region on Hwy 20 

by

 

Newhalem

 and Diablo Lake is 

a part of Whatcom county 

that is

 

on the 

Cascade Loop National Scenic Byway, too!

 
SC: Don't have outdoor gear? Don't let that get in your way, Squatch! Our local businesses offer plenty of expertise in case you need to purchase or rent gear. And don't forget to snap photos or find a local photographer to make your memories last! Turn your photos into posters at Quick Silver Photo Lab and have them framed at Bellingham Frameworks. Gather art supplies from Allied Arts Reuse Thrift Store, Ragfinery, or the RE Store to make a scrapbook while snacking on local goodies from your favorite grocer or market and sipping delectable local beverages. Whether it's coffee, tea, soda, beer, wine, or spirits, Whatcom County has you covered!
Sasquatch: Just thinking about all this activity makes me hungry. I'm used to foraging for food, but would like to eat like the locals. Where can I satisfy my appetite? 
VB: I'm sure you know about the many ways to get out and enjoy our gorgeous farms and all their bounty. Check out this page for ways to enjoy berries, pizza, beer, oysters, and more! We know you've got quite an appetitie, so if you're still hungry, you can find ideas on where to eat here.
SC: Whatcom County also has 17 local breweries and a plethora of options for food that is grown, caught, raised and made in Washington State. You can find them on this handy interactive map at eatlocalfirst.org.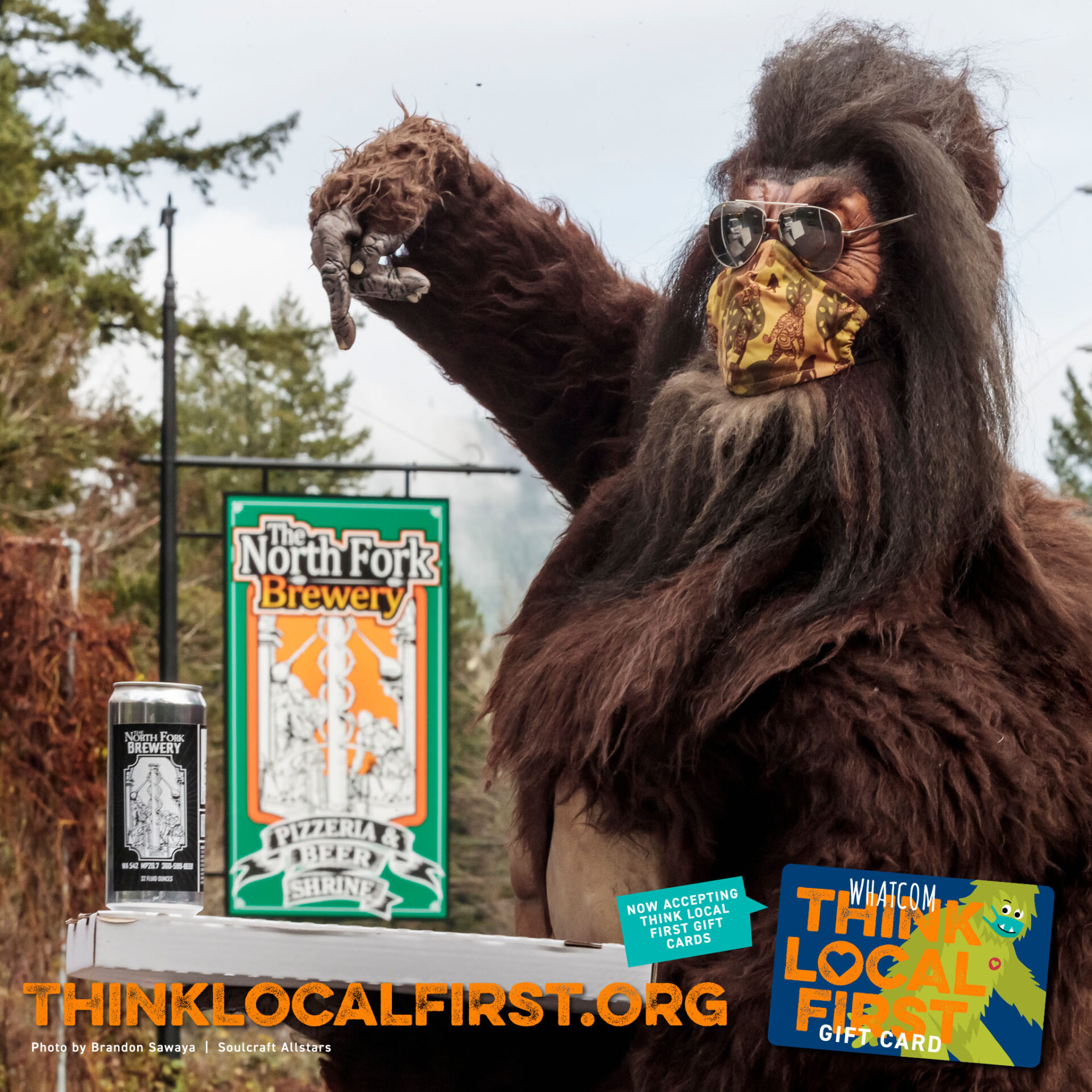 Sasquatch: Sometimes the weather is my friend, and sometimes it can really ruffle my fur. Where can I seek shelter and still have fun?
VB: Here's some information on great shopping all around the region, including chic options in Fairhaven and  hunting for vintage treasures in downtown Bellingham. We also have fabulous museums and galleries.
SC: Visit Bellingham is right. From quirky to sublime, we do have some great local shopping. Check out our business directory to help you find your fashion, spruce up your home, or learn a new hobby. If indoor is what your looking for, you could also pamper yourself with a relaxing massage, heal your soul in the salt caves at Flowmotion, and get your hair cut at one of the many salons in Whatcom County such as Hairstream, Argyle Salon, or Busy B's Barber Shop.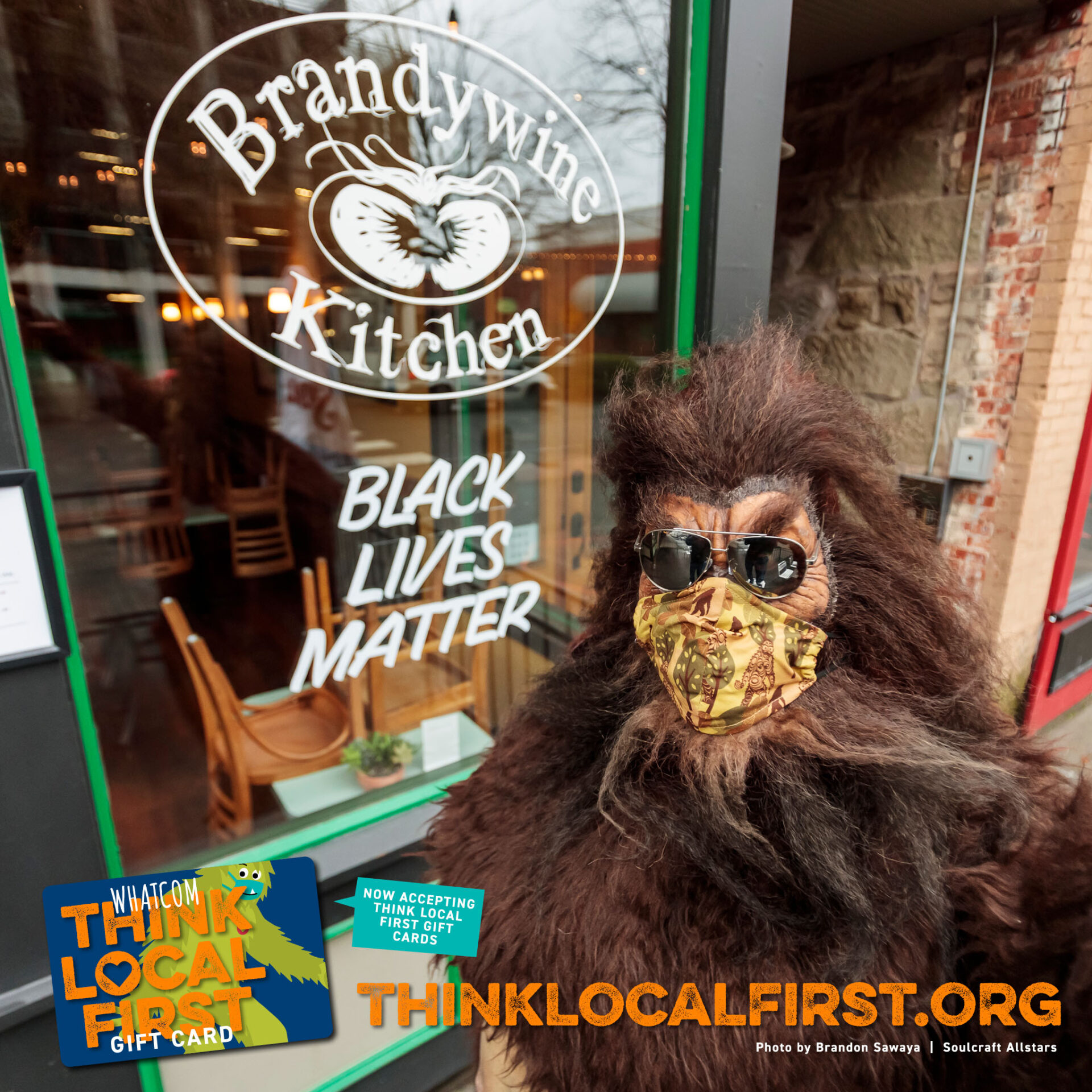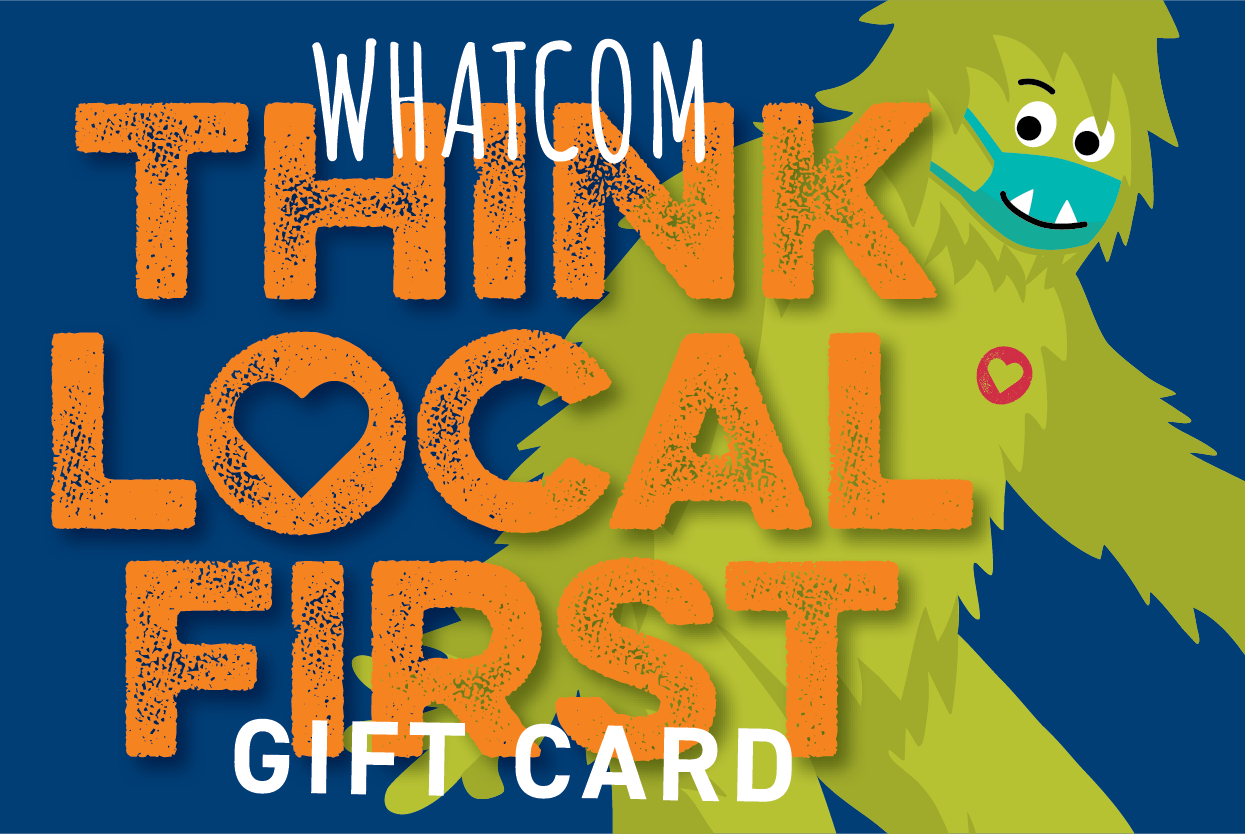 Whatcom County's Think Local First eGift Card has many of your favorite retailers, restaurants, services and entertainment in one place. Use the Think Local First gift card at any participating location in Whatcom County — there is truly something for everyone!
How does it work? Choose your recipient and send your gift card via email or text message. The recipient can use it to make purchases at participating businesses. Thanks to the generosity of the Whatcom Community Foundation, purchasing fees are waived!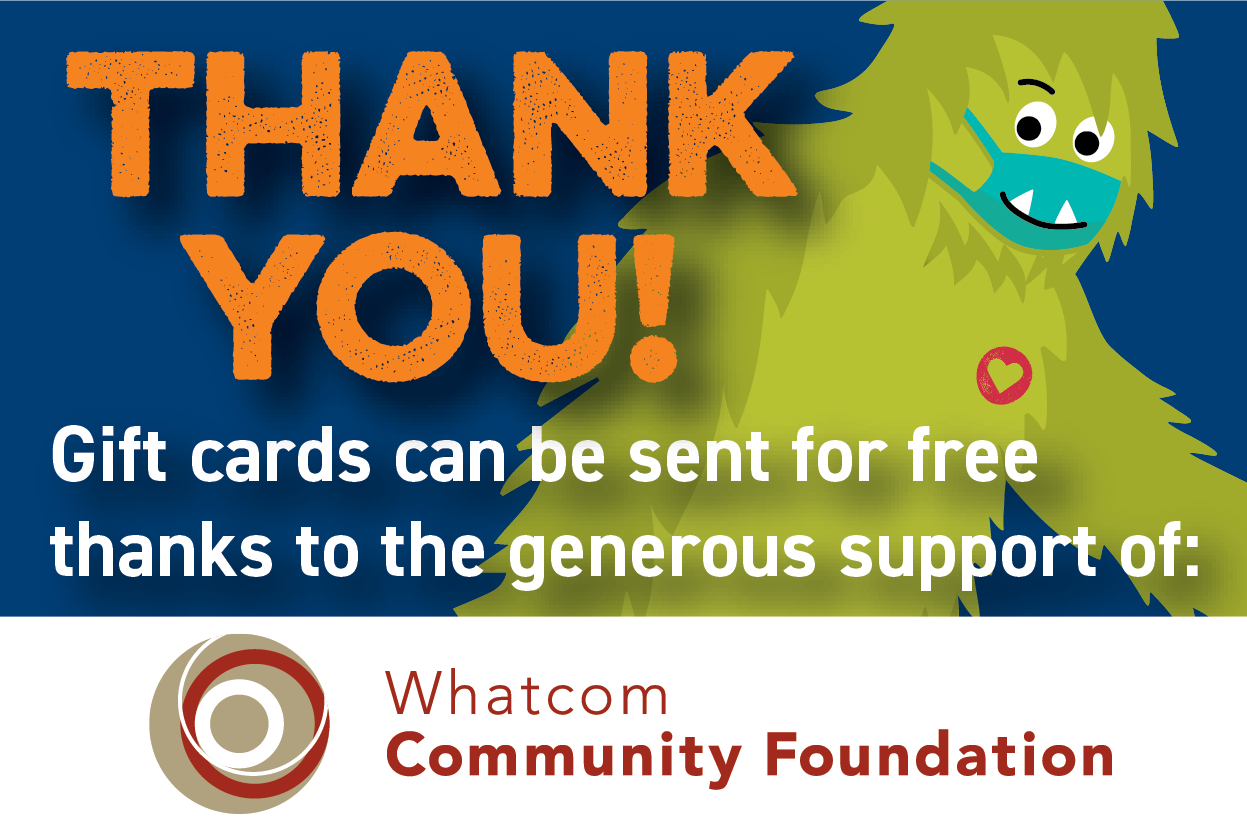 Follow Us
Learn how you can #StaycateLikeSquatch and support Whatcom County local businesses. Visit us on Facebook or Instagram to tell us your favorite Staycation spot with #StaycateLikeSquatch by April 12, 2021 for a chance to win a $100 Think Local First Gift Card.
Follow Visit Bellingham I Whatcom County on Facebook and Instagram.
Follow Sustainable Connections on Facebook and Instagram
Thank you to the generous support of these Think Local Frist sponsors: