A Family Farm that takes flavor…and sustainability…seriously
By Alex Smith
March 2019
As long as humans have existed, we've been looking for better food. At first we searched for berries that didn't kill us (or animals that didn't kill us). Then we started planting seeds from the plants that we liked the most. Since then we've been developing better crops at a blistering pace. But what defines "better"? In today's world where food can literally come from anywhere in the world, many crops are grown for the ability to cross oceans without spoiling.
While this can be a benefit – strawberries in January can be a treat – it can also be detrimental. Crops bred for qualities like consistency and toughness are sometimes less tasty and nutritious than their more fragile cousins.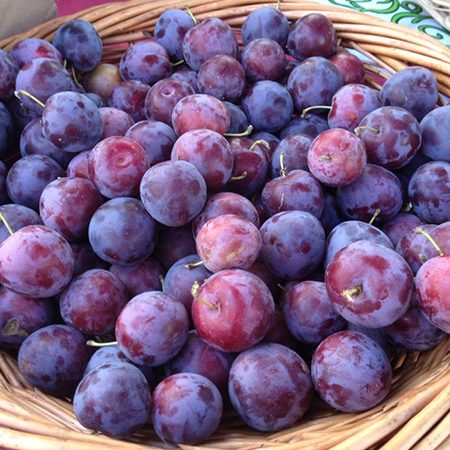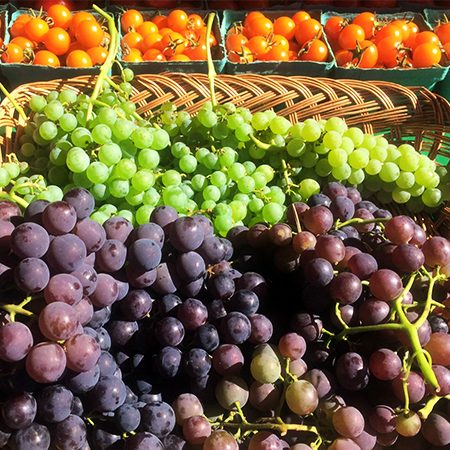 Luckily we live in a place where food is plentiful. Local sellers don't need to worry about shipping products long distances so they can focus on growing the varieties that are the best for fresh eating. I had a chance to talk with Kevin and Briana Buck of Twin Cedars Farm on a sunny day about exactly this.
As we sat in the unseasonably warm sun, Kevin described their philosophy in choosing varieties. "We start with the seeds, and decide what to grow based on flavor and cooking performance," he says. "From there it's a matter of making sure the soil has the right nutrients to produce a good final product."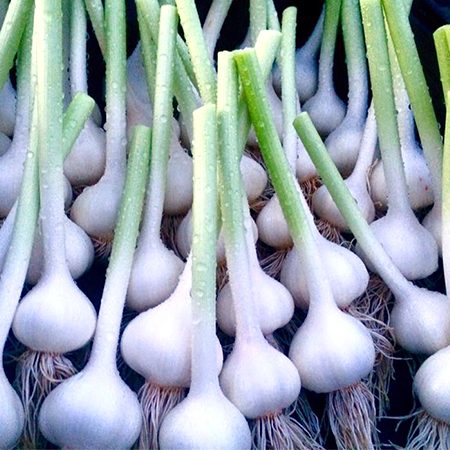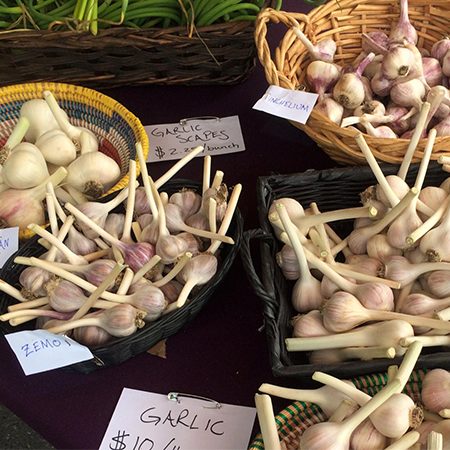 It's not a matter of choosing the single variety that works best, either. They've scaled down to only 12 varieties of garlic. Some varieties are better for fresh eating, others for cooking. Some are so spicy that eating them fresh is like eating a pepper. Others are milder and great for roasting and eating with bread or a veggie. Some store well and can help get you through the long winter.
What's unique about these two is their willingness to educate customers about these varietal differences. As Briana explains, "We live in a fast-paced world and don't get to learn about our food. Learning about what we're eating expands people's minds." Educating customers on different varieties provides information you might not even think to ask. The health benefits of garlic, the influence of soil microbes, and the laying cycle of chickens are just scratching the surface of what these two will talk to you about.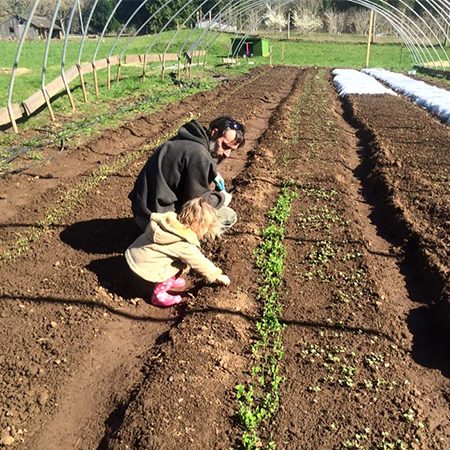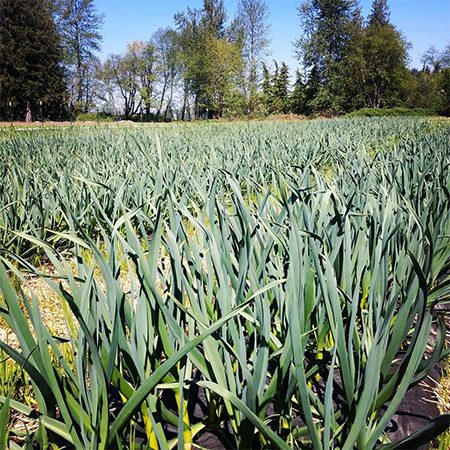 The reason that Kevin and Briana are so willing to educate customers is that they're intensely passionate about the work they do. They cite many reasons for choosing to farm: the ability to be true to their values and ethics, access to healthy food, and most importantly getting to spend time with each other and their child on a daily basis.
Values are upheld in many and varied ways. The farm practices permaculture in some sections, a method that is rarely seen in production models. This style of growing uses natural features, animals, and minimal impact on the soil to create a healthy landscape and reduce environmental impacts across the board.
They re-use materials that other farms would just discard as scrap, too. When their greenhouse blew down in a wind storm, the metal hoops were so mangled that many farmers would have simply sent them off to be recycled. With the help of some good friends, they instead bent them into shape and made a netting structure so that their ducks and geese can enjoy the outdoors without fear of being attacked by an eagle.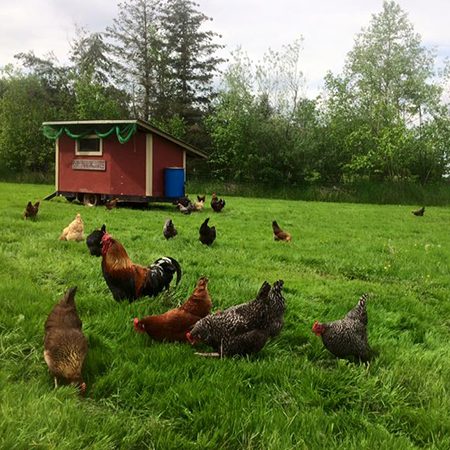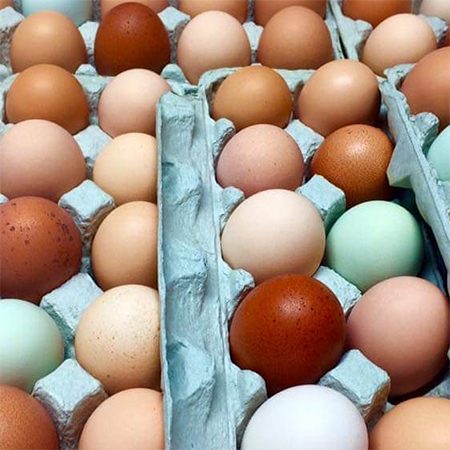 Speaking of birds, I'd be seriously derelict in my duties if I didn't mention the eggs produced by Twin Cedars. In order of size, they offer chicken, duck, and goose eggs and all are delicious. While the larger eggs are a novelty and certainly tasty, I tend to go for the plain old chicken eggs. Call me old fashioned. My favorite way to cook them is to fry them over medium, so the yolk is still runny but the whites are cooked. The slow ooze of the deep orange yolk, the thick creamy texture, and the buttery, rich flavor is hard to beat. Fair warning though: if you're used to generic eggs from the grocery store, you'll never be able to go back once you try these.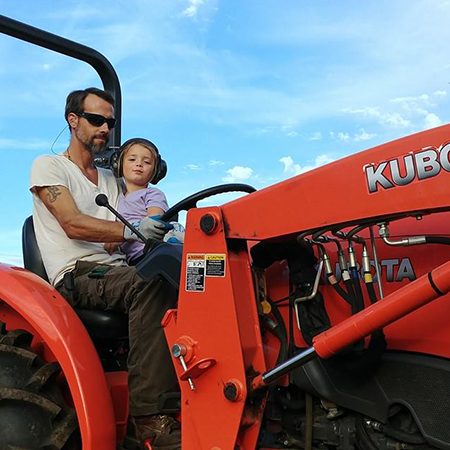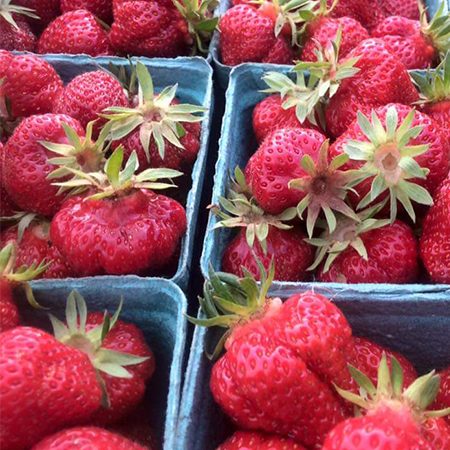 As we wrap up and their daughter gets shuttled from the playground to karate class, I'm left with a sense of true respect for these two. They've followed their values and taken a path that isn't easy to navigate. Because they're so devoted to doing things ethically, and because they spend so much time and effort learning how to do that, it takes the burden off of me. Instead of spending hours researching what organic regulations mean, or which farms are ecologically sound, or what the best type of squash is for a stir fry, I can just go to them. I'm likely to get more information than I need, but I know for sure I'll get what I want. At least for me, that's where I want to spend my money. If you do too, you can find Twin Cedars at the Saturday Bellingham Farmers Market!
Twin Cedars Farm
Deming
(360) 510 – 7262
Facebook