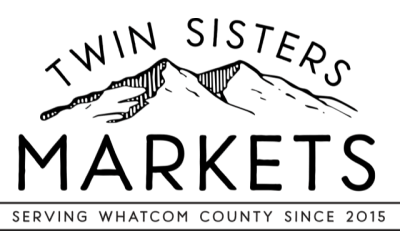 Birchwood Neighborhood: 1703 Birchwood Ave.
Deming Quick Stop: 4885 Mt. Bake Highway
North Fork Library: 7506 Kendall Rd. ,
(360) 840-3064
info@twinsistersmarket.com
twinsistersmarkets.com/
We're a hyper-local, mobile farmers market offering fresh, healthy, produce, eggs, meats, and more grown in Whatcom County for Whatcom County! Visit us during our market season from the start of June through the end of October!
We operate three cooperative farm stands in Whatcom County communities experiencing "food apartheid." People who live in these areas have limited access to healthy food sources. Our mission is to increase access to fresh, nutritious food in Whatcom County, and to support a living wage for the farmers who grow it. We work to build a more resilient food system in our county's food insecure areas by offering hyper-local markets that adapt to the unique needs of each community we serve.
Birchwood Neighborhood:
Sundays June – October
9 AM – 2 PM
In front of Northwest Pawn and Liberty Tax
1703 Birchwood Ave Bellingham
Kendall:
Saturdays June – October
10 AM – 2 PM
North Fork Library
7506 Kendall Rd.
Deming:
Saturdays June – October
9 AM – 3 PM
Deming Quick Stop
4885 Mt. Bake Highway
Sustainable Practices:
Sales Methods: Other
Neighborhood: Mt. Baker Hwy – Deming, Maple Falls, Glacier
Return to Main Business Directory or View ALL Business Listings