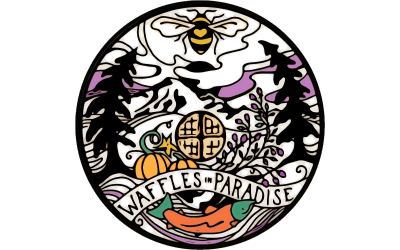 ruby@wafflesinparadise.com
www.wafflesinparadise.com
Waffles in Paradise was dreamed up on a gorgeous October day after a walk around Lake Padden, by owners Inga Elvrom and Melvin Martinez Campos.
'Making heart-shaped waffles on Sunday mornings is a special tradition in our family, a culinary expression of my Nordic ancestry, and we are VERY excited to share with our community!'
Western Washington is our Paradise, which is why we chose Bellingham, the City of Renewed Excitement, to set up shop. We love the diversity of deliciousness found right here; we source from Cairnspring Mills, Twin Brooks Creamery, Viva Farms, Cooperativa Tierra y Libertad the Kitchen Imp, Marie's Bees, and the Spice Hut.
Waffles in Paradise will be opening March 27, 2021 at the Rebel Artists of Whatcom Market in celebration of International Waffle Day, known as Vaffeldagen in Norway, Sweden and Denmark.
We will be at the Rebel Artists of Whatcom Market, located at the Commercial Street Plaza on Thursdays from 3-7 pm.
Woman-owned
Sustainable Practices:
Sales Methods: In-Store
Neighborhood: Bellingham: Samish
Return to Main Business Directory or View ALL Business Listings