Eat Local First Food & Farm Finder
A LOCAVORE GUIDE MADE JUST FOR YOU
Click on the image to view the PDF!
The Eat Local First Food & Farm Finder contains 120 local businesses offering everything from apples to zucchini, heritage animals and specialty cheese, fine dining to casual fare and one-stop shopping experiences along with a fold out map for easy navigation. They are distributed at over 200 locations, including the Bellingham Farmers Market, the Community Food Coop, Village Books, and Terra Organica, all the listing sites are below. The Eat Local First Food & Farm Finder helps locals find:
The healthiest, freshest foods
U-pick and farm stands
Organic farms
Humanely raised animal products
Where to sign up for Community Supported Agriculture (CSA) shares
Dates for local food & farming events
Opening days for local farmers markets
Explore by map!
All the food and farming businesses listed in the guide have also been added to a handy online map. If you're headed out to a specific spot why not check and see if there is a local farmstand or cheese shop you can visit or take a Saturday and plan a road trip! A weekend wouldn't even begin to cover all the amazing culinary treasures we have here.
Pick up your own print copy!
The sites below should have print copies throughout the year but you might want to call ahead of time to check just in case.
Bellingham
Terra Organica Public Market
Mallard Ice Cream
The Bagelry
The Woods – Railword
Community Food Co-op, Swan Cafe
Whatcom County Courthouse
Downtown Bellingham Partnership
Bellingham Tourism
The Chrysalis
Fairhaven Village Inn
ReStore
Haggen
Yeagers
Ferndale
Hampton Inn, Bakerview
Haggen
Ferndale Chamber of Commerce + Public Market
Ace Hardware
Silver Reef Casino & Hotel
Boxx Berry Farm
Appel Cheese Shop
Blaine/Custer/Birch Bay
Dakota Creek Winery
Blaine Library
Blaine Chamber of Commerce
Birch Bay Chamber of Commerce
The C Shop
Pleasant Valley Dairy
Lynden
BelleWood Acres
Lynden Chamber of Commerce
Lynden Library
Good to Go Meatpies
Whatcom Farmers Coop
Sampson Estates Winery
Whatcom Conservation District
Lummi Island
Northwest Indian College
Lummi Island Library
Beach Store Cafe
Everson/Nooksack
Everson Library
Alm Hill Gardens
Good To Go Meatpies
Tuxedo Garden
Cloud Mountain Farm Center
Sumas
Bromley's Market IGA
Edaleen Diary
Deming/Kendal/Nugent's Corner
Rome Store
Bellingham Country Gardens
Nooksack Market Store
Il Caffe Rifugio
Deming Library
Kendal/Maple Falls/Glacier
North Fork Brewery
Maple Falls Library
Crossroads Grocery
Graham's Restaurant & Grocery
Wake n' Bakery
Chair 9
Chuckanut Drive & Bow
Breadfarm
Bow Hill Blueberries
Little Bow Market
Samish Bay Cheese
Van Zandt/Acme
Everybody's Store
Acme Post Office
Blue Mt. Grill
Sedro Woolley/Mount Vernon
The Woolley Market
Skagit Valley Food Co-op
Mount Vernon Farmers Market
What is Local Food?
"Locally grown" refers to food and other agricultural products (for example, wool or flowers) that are grown or produced, processed and then sold. There's no standard definition of "local" and it isn't officially monitored. We like to define "local" as food that is grown, raised, or produced in Whatcom, Skagit, San Juan or Island Counties. We crafted this definition because we have an abundance of food available in our little corner of the world and because local food is more than just measuring food miles – it's getting to know farmers, fisherman, and food producers here in our backyard.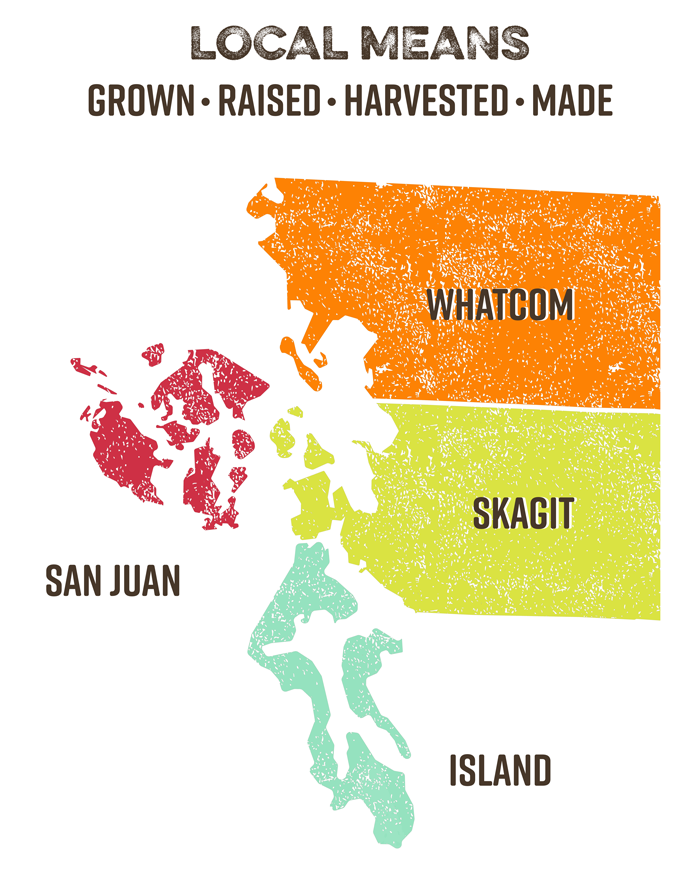 Copyright © 2002 – 2017 · Eat Local First · All Rights Reserved
Website photography courtesy of: Diane Padys Photography, Buff Black Photography, Katheryn Moran Photography, and Megan Gehring