By Mark Peterson
If there is one thing I have learned over my seven years of employment here at Sustainable Connections it is that this is a phenomenal organization to work for and with. There are so many great aspects of being employed here and a huge one is knowing that the work I do every day makes a difference in our community. Sure the work can be hard and there are days where I wonder if I moved that needle at all but there is no doubt that working for a purpose driven organization gives me the extra motivation to get cracking on another work day.
I am surrounded by co-workers who are doing the same thing, putting their heart, soul and professional talents to good use making a positive impact in our community. Ask any Sustainable Connections (SC) employee present or past and you will undoubtedly hear the same thing – their time employed here is or was a highlight of their career. Personally, I can without reservation say the same thing and I am grateful for the opportunity to apply my talents to help solve some of the more pressing issues facing our community, region and world.
Employees do not leave SC often and when they do it is for a rare opportunity like a chance to study in Iceland, travel around for an extended taste of the van life and in the case of the most recent departure join a significant other as they pursue their career in another city. So, this all being said, it is time to cut to the chase and share the news. Sustainable Connections has a new job opening for Sustainable Business Program Assistant.
If reducing food waste, p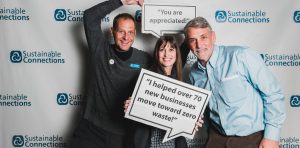 roviding over 30,000 meals to in-need community members, helping business reduce their waste and save tens of thousands of dollars and public education about waste reduction and sustainability is your passion, now is your chance to get in the door. SC is a unique and rewarding place of employment and you'll get to utilize your talents with a fabulous group of coworkers and a community of over 350 businesses working to reduce their impact and create positive change here in the place we call home.
Applications are due by July 10th, 2019.