Contact: Emily Larson Kubiak, Energy Efficiency &
Renewables Program Manager
Phone: (360) 647-7093 x113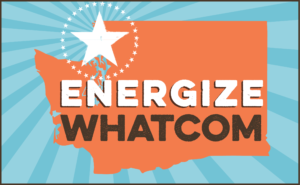 E-mail: Emily@sustainableconnections.org
FOR IMMEDIATE RELEASE
Energize Whatcom Campaign
BELLINGHAM, WA, June 15, 2021 | The Port of Bellingham has partnered with Sustainable Connections and the Community Energy Challenge to launch Energize Whatcom. This campaign aims to bring together numerous resources available to help rural businesses complete energy efficiency and renewable energy projects – including technical assistance, incentives, grants and rebates.
This opportunity is available for businesses throughout Whatcom County, with a focus on helping businesses in rural areas and small cities. Interested businesses are encouraged to sign up before September 1st for access to the maximum amount of incentives offered. A grant from the USDA made this partnership possible and provided funding for energy audits at rural Whatcom businesses, while Community Energy Challenge funding continues to provide participants with exclusive incentives and help with project implementation.
Participating businesses are provided with a full energy audit and custom energy action plan that help prioritize cost-effective measures to save them energy and money. Businesses then have access to available rebates and grants, as well as exclusive incentives including free LED lighting upgrades and cash rebates. Through it all, the Community Energy Challenge is there to support each Energize Whatcom business from start to finish.
Available Incentives:
• USDA Grants available cover up to 25% of solar & energy improvements for rural businesses
• Up to $5,000 in energy-saving incentives from the Community Energy Challenge – including up to $1,000 in LED
lightbulbs
• 26% tax credit for solar panel costs
• Super discounted, low-cost energy audit for any size business
• Rebates from local utilities
"Becoming energy efficient should not be a financial burden on businesses," says Emily Larson Kubiak, Energy Efficiency & Renewables Program Manager. "With incentives and assistance, businesses can focus on earning and saving money, and contributing to the local economy, all while reducing their impact on the environment."
This campaign is made possible by the Port of Bellingham, Spark Northwest, Whatcom Conservation District, and the USDA. For more details on how to "Energize Your Business" or sign up for an energy audit, please visit communityenergychallenge.org
###