Anacortes Cliffside Cabin
Designer: Bellingham Bay Builders
Project Contributors:
Architect: Greg Robinson, GRA Architecture
Fireplace Tile: Tac Tile Company
Cabinets: Smith & Vallee
Interior Design: Mise En Place
Green Features:
Design: Large south-facing windows to maximize passive solar gain with large eaves for summer shading. Happily, the south facing windows also face the beautiful shoreline views. Minimal 800 sf footprint.  

 

Location: Located on an infill lot in an established neighborhood close to public beach and walking trails.  

 

Site: Situated on same impacted footprint of existing run-down cabin. No new site clearing or development. Improvements to stormwater infiltration and sediment control. Overall improvement to local shoreline ecosystem.  

 

Water Efficiency: Low flow fixtures 

 

Energy & Atmosphere: Daikin electric mini-split heat pump, gas on-demand water heater, LED lighting, less than 1.5 ACH @ 50pa.  

 

Materials & Resources: Construction waste recycling, salvaged Fir timbers, use of recyclable materials (i.e. metal roofing), FSC certified wood decking, and salvaged pine paneling accents.  

 

Indoor Air Quality: Fantech HRV, tight building envelope with controlled air exchange, no VOC paints & finishes, durable floors in wet rooms, rain screen siding detail, water vapor managed membrane.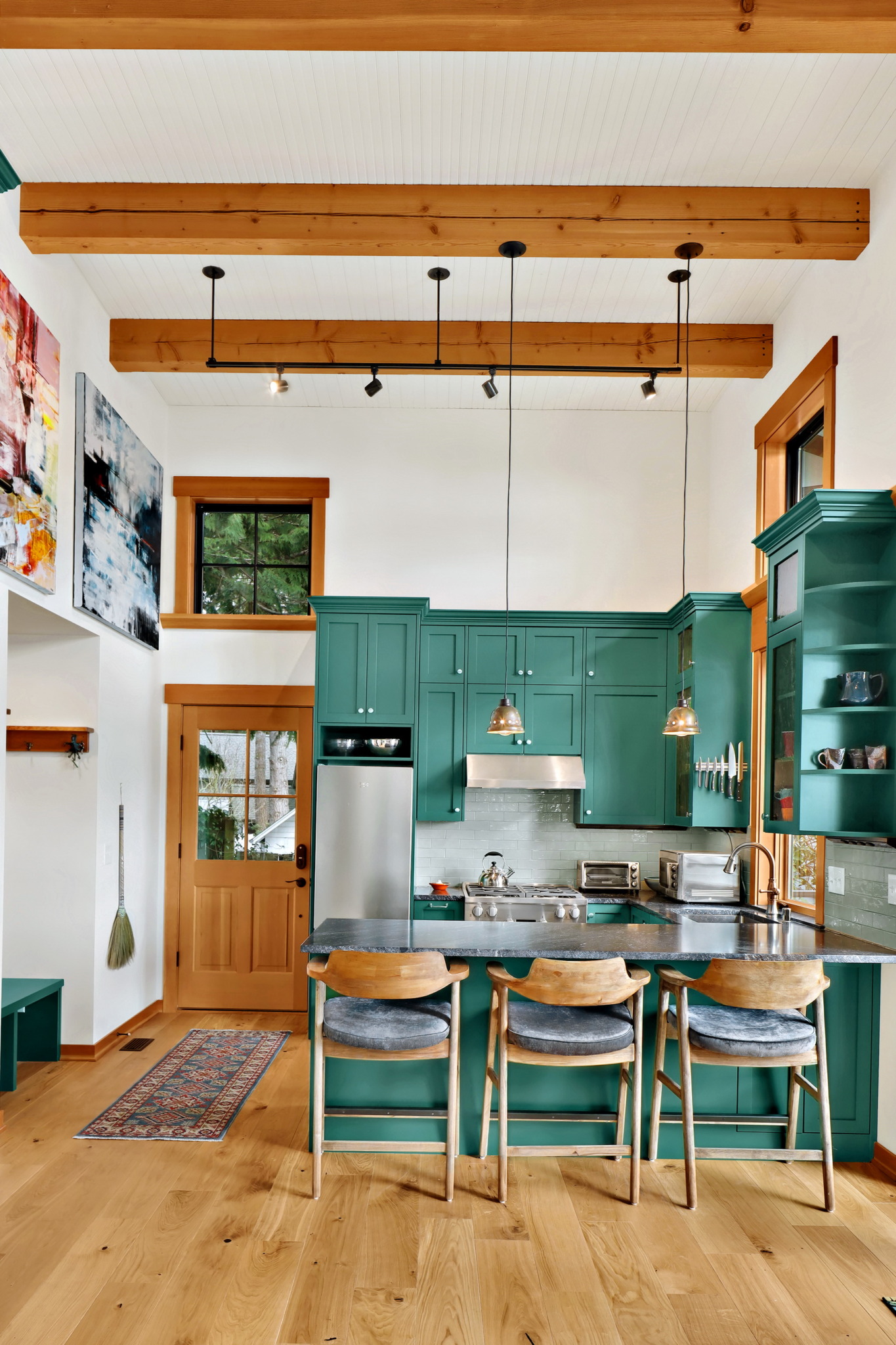 Photo Gallery
Photo Courtesy: Radley Muller Photos
A few years prior to this project, the homeowner bought this beautiful piece of shoreline property with a rundown cabin with the intention of fixing it up or replacing it sometime in the future. After some investigation into the state of the home and in particular the home's foundation, they realized that replacing the old cabin was the only realistic option. They engaged Greg Robinson of GRArchitecture as the project architect and Bellingham Bay Builders as the general contractor and as an integrated design team they all worked together to design this wonderful getaway cabin on the shoreline.  
  
The key project goals were to be build a compact, beautiful, high-performance cabin without creating any new additional impacts to the site and local ecosystem.  The cabin should be a snug, comfortable place to get away to, as well as a place to invite friends and inspire off-line connections and creativity. As like any new high-performance home the cabin should be low maintenance, durable, have great indoor air quality, provide thermal comfort, and be energy efficient.  
  
To minimize site impacts the new cabin was built in the same footprint as the old derelict cabin after it was removed while maintaining the existing cabin's septic system. From there a modern high-performance cabin was built with behind-the-scenes details such as a carefully detailed building envelope, high R-value insulation, modern high functioning windows, mini split heat pump for heating and cooling, and a heat recovery ventilator.  
  
With a long-lasting, high-performance building shell and mechanical systems designed, it was time to plan an interior that inspired and comforted the owners. Besides cozy window seats and floor to ceiling library cabinets the home's recycled Douglas Fir ceiling beams provide a solid place to hang the owner's aerial silk. With its low maintenance design, visits provide more time for reading, connecting, exploring, cooking, aerial silks, and even oyster farming.