Designer: TC Legend Homes
Project Contributors:
Designer: Powerhouse Designs
Green Features:
Design: Department of Energy certified Net Zero design, Aging-in-place design, Structural insulated panels (SIPS) shell.
Location: Great southern exposure for active and passive solar.
Site: 9.88 acres undisturbed land, Preserved native wetland flora, addition of native flora.
Water efficiency: low/no maintenance landscaping, low-flow faucets, and fixtures.
Energy & Atmosphere: Net positive solar array, high efficiency heat pump, radiant heating, heat recovery ventilator, ENERGY STAR appliances, LED lighting, R-20 Rigid slab insulation, R-29 wall insulation, R-49 Roof insulation, HERS Score of -23, Air sealed to 0.54 ACH50 with SIPs tape & Aerobarrier aerosol sealant.
Materials & Resources: SIPs, Insulated Concrete Forms (ICF), Triple pane windows (U-0.14 – 0.18), Thermatrue fiberglass doors, GreenGaurd Gold certified hardwood floor, Allura 50-year fiber cement board, Site harvested and milled maple cabinets.
Indoor Air Quality: Low toxicity building materials and finished, no ducted heating, high-efficiency air filtration, HEPA filters.
Certification & Education: Department of Energy Net Zero certified, 5-Star Built Green certified, ENERGY STAR® HomesNorthwest certified, EPA Indoor airPLUS® certified.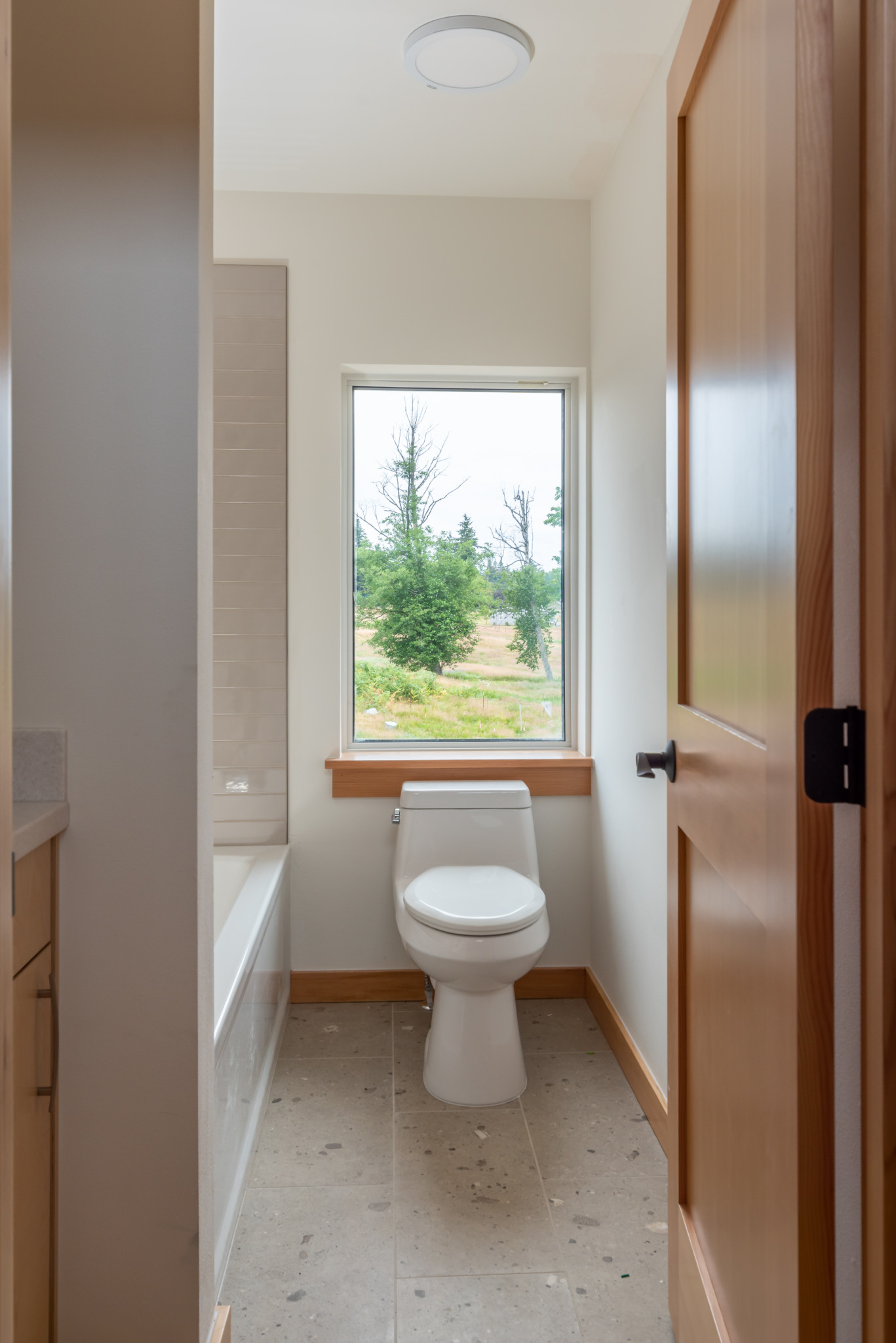 Photo Gallery
Photo Courtesy: John Trax, Zig Zag Mt. Art Photos
The 1,950 square foot, 3-bedroom, 2.5-bathroom home is positioned on a knoll above protected wetlands, northeast of Bellingham. Not only is it surrounded by 9.88 acres of undisturbed land and preserved native trees, but the owners also planted an additional 1,000+ native trees and shrubs to maintain the natural ecosystem on their beautiful remote lot. House in a Hollow was built with a Department of Energy certified Net Zero design and an aging-in-place floorplan. These certifications mean that House in a Hollow only uses as much energy that it produces through installed solar, and the aging-in-place floorplan supports the environment allowing the residents to live within the home for as long as possible. It is also Built Green 5-star certified, ENERGY STAR® Homes Northwest certified, and EPA Indoor airPLUS® certified. This means that House in a Hollow is 30% more energy efficient than the current WA State Code and installed Solar PVS, and it meets the energy performance and indoor air quality standards set by the EPA. House in a Hollow was made to reduce greenhouse gas emissions and ensure a safe and healthy home during smokey summers.