Designer: Instinct Builders
Project Contributors:
Designer: Michelle Banks, Spiral Design Studio
Architect: Mandala Custom Homes
Green Features:
100% FSC lumber utilized throughout the finishes and framing

Recycled lamb's wool cavity insulation
2" Rockwool exterior continuous insulation
1.5 ACH50
Ducted heat pump with integrated ERV
Zero VOC coverings and American Clay earthen plaster wall coatings
Triple pane central skylight
24kW grid-tied solar array, well and on-site septic
Woodstock Soapstone stove back-up heat with efficient catalytic combustion
Energy Star appliances + LED lighting throughout
Heat Pump hot water heater
100% of construction waste recycled through Lautenbach Industries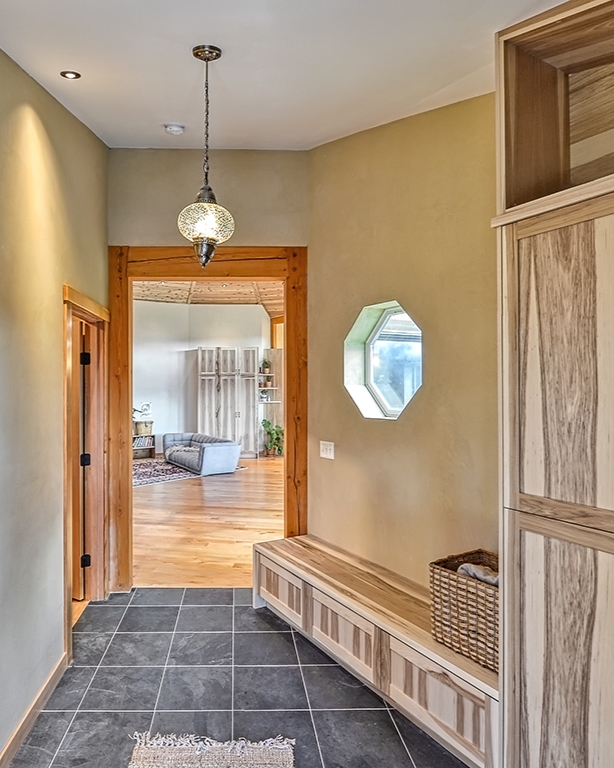 Photo Gallery
Photo Courtesy: Greenwood Photographic Arts
The Mandala House has as many green features as it does walls and angles. This 14-sided home was designed and partially factory-fabricated in Nelson BC by Mandala Homes. The ~1,800sqft home arrived on two semi-truck loads with the exterior walls pre-built all the way to pre-finished siding. Maximizing jobsite efficiency and allowing valuable site labor to focus on critical construction and interior finishes it was completed in seven months from the first shovel of dirt to turn-key.    
  The Mandala Home's green features include 100% FSC (Forest Stewardship Certified) bigleaf maple lumber utilized through the finishes and framing to add a beautiful warmth and safe building materials to the home. The walls throughout the home are noticeability thick with insulation to reduce energy use for heating and insure the comfort of the residents. Recycled lamb's wool was used for an all-natural, biodegradable, and sustainable cavity insulation, which has an average R value of 3.5-3.8 per inch of material. For the exterior continuous insulation, 2" of Rockwool was added. Throughout the interior, the walls are covered in an earth and clay plaster from American Clay that was sourced in New Mexico. This plaster is pure earth and has no cement or catalysts which allows for a very fine porcelain finish throughout the home. In addition, there are zero VOC (Volatile Organic Compound) coverings on any of the building materials. The floors in the kitchen and bathrooms are composed of natural terracotta flooring, which brings texture and color into the home. The beautiful triple pane central skylight adds extra daylight into the living room, which is essential during the dark northwest winters. This home has a 1.5 ACH50 blower door test that proves the airtightness of the structure.   
  Energy features of the home include a ducted heat pump with an integrated ERV to reduce electricity use while still providing clean air. There is also a heat pump hot water heater to efficiently provide hot water in the home while reducing the use of natural gas. Throughout the home are LED lights and efficient Energy Star appliances, including a Woodstock Soapstone Stove back-up heat with efficient catalytic combustion. The home is entirely powered by a 24kW grid-tied solar array and has its own well and onsite septic. During this project, 100% of construction waste was recycled through Lautenbach Industries.