Designer: A1DesignBuild
Project Contributors:
Design Manager: Maggie Bates, CPHC
Designer: Michael Feeney, RA, CPHC
Shawn Serdahl, CPHB – Construction Manager
Thad McGowan, Project Manager
Excavation: Dirt Devils
HVAC: Northwest Energy Systems
Electrical: Corwin Electrical Systems
Plumbing: Spectrum Plumbing and Heating
Tile: Rob Heinz, Rob Rocks
Painting: Greggerson Painting
Metal Roofing: Nolan's Roofing
Windows and Glassworks: West Coast Windows
Drywall: Storm Drywall
Green Features:
Water Efficiency: 1.28 gpf toilets; 1.7 gpm showers
Materials & Resources:

Cabinets: Canyon Creek Cabinet Co, several sustainability awards.
Countertops: Cambria Green Guard Certified; recycled content.
Floors: Reward engineered wood, Floor Score Certified

Marmoleum: Germany's Seal for Assured Sustainability: inherently organic components

Windows: Milgard Ultra, fiberglass ISO 14001 certification for lower energy usage, waste reduction and increased recycling
Thermal: Basis of Design: 2015 WA State Energy Code:

R-10 slab/edge insulation required/provided
Walls: Required R-21, Provided R22.75 + R-5.25 CI Mineral Wool
Roof: Required R-38 (cathedral), Provided R-47 Premier Sips
Windows: Required, U-value 0.28, Provided 0.24-0.26 

Indoor Air Quality: Initial Air Changes/Hr ACH50 = 1.47; Final = 1.21

Panasonic Whisper Comfort 40 cfm ERV
HVAC: Daikin ductless mini split heat pump heating system

Certifications & Education

Aging in Place

Grade level single-floor ADU for accessibility
Heated tile benches at tub and shower with grab bars for self-assist.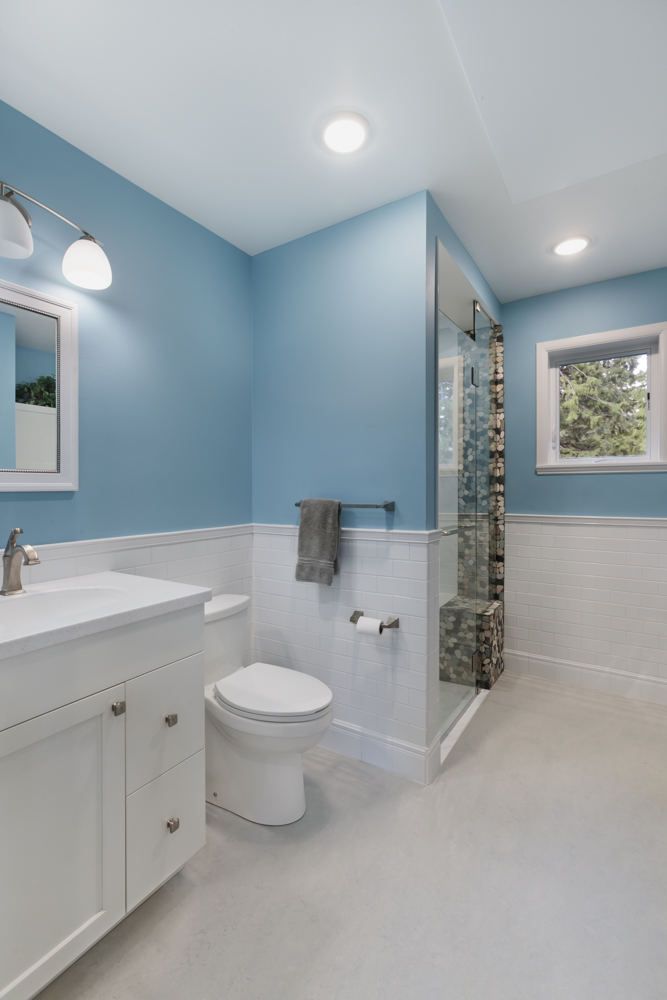 Photo Gallery
Photo Courtesy: Brandon Sawaya Photos
The Modahl project is a 1,250 square foot Accessory Dwelling Unit, or ADU, on the hillside looking west over Neptune Beach in Ferndale. Alecia Modahl and her partner Toby commissioned the project to allow her mom to live on the property with them – a common theme these days for living with extended family.
In addition to aging-in-place features, the design needed to comply with ADU regulations, which mandate that it be subservient to the main residence with similar design features. A1DesignBuild matched the metal siding and roofing materials for durability and to fit in esthetically, and the roof slopes and overhangs complement the existing home.
The 1-1/2 story tall dining space grabs sunlight and gives a playful elegance to the spatial qualities of the ADU.
Smart selections were made along the way that classifies the home as a high-performer, including an electric heat pump heating system, a heat pump tumble clothes dryer, R-47 Sips roof panels, and continuous rock wool insulation.
Details in some design features reminisce of Mom's original home, including the master bathroom's tile trims, low wall/handset, and the U-shaped island kitchen; four historic chandeliers from Mom's original home were rewired and used in the new home to give familiarity, and plenty of plate rails for her blue ware make the space feel of home.