Building community one bite at a time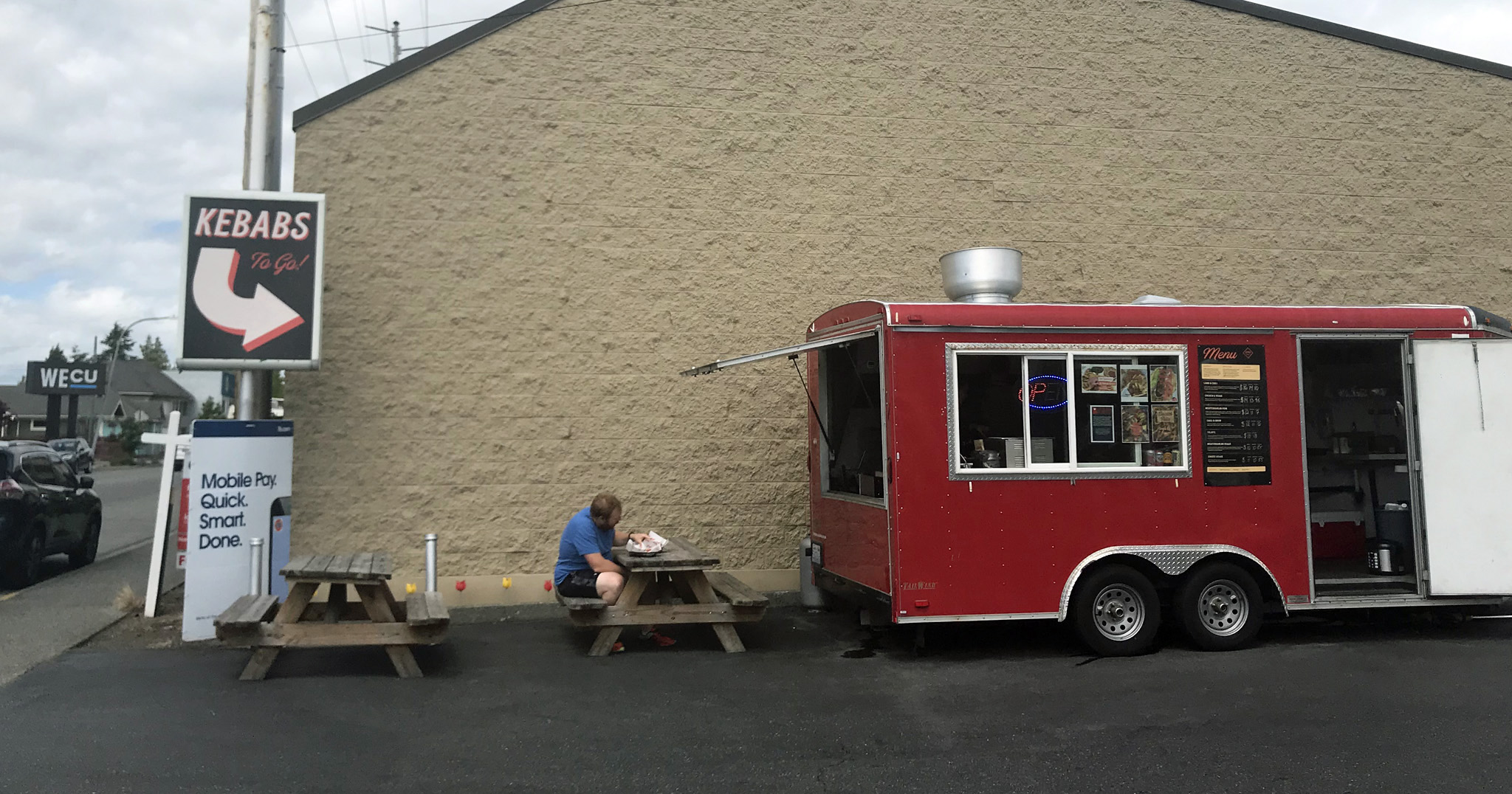 By Alex Smith
July 2019
The concept of "fast casual" is one that's gaining momentum, and for good reason. Getting high quality food cooked right in front of you and ready to eat in minutes satisfies a unique place in answering the question "what do I want to eat?" The challenge for restaurants is to find ways to prepare food so it can be cooked quickly while still using the best ingredients. I had a chance to sit down with Karl Shilhanek of Kebab Casual, who aims to do just that.
Karl is a Bellingham native who left for college where he developed a love for serving food. He started a business that initially was focused on bar food for local students, but eventually expanded to a more complex menu. "I found that cooking and serving food was something I was talented at, and I've always been passionate about being a small business owner," he says. "Food is also something that you can't really get bored with. You're always discovering new things."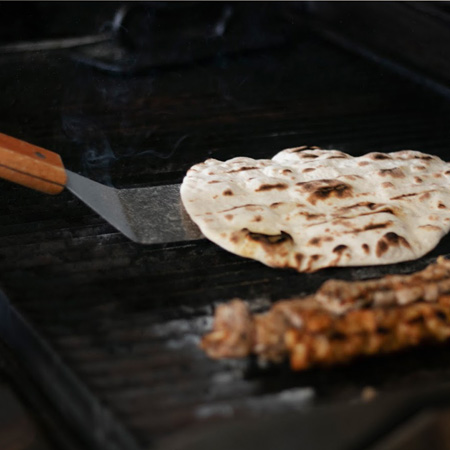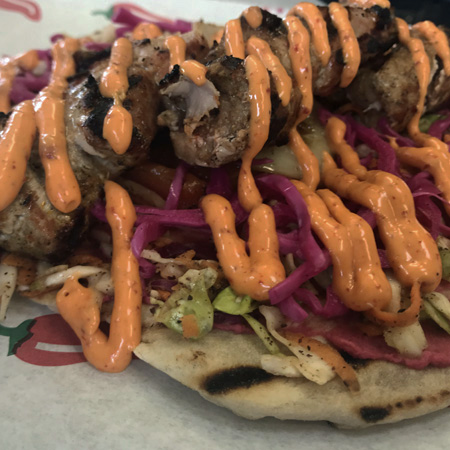 This passion for constant growth has led to a menu that is shifting and evolving with an eye toward constant improvement. The new summer menu includes items like the chicken shawarma sandwich featuring lettuce from Cedarville Farm and organic chicken from Draper Valley in Mount Vernon, plus various vegetables from local farms. The chicken is seasoned just right, with a hint of spiciness and tons of flavor. Another highlight is the organic chicken wings seasoned with Za'atar spices.
If you prefer a vegan option, you can also try the falafel sandwich, which uses house-made falafel. If you prefer a gluten-free option, you can try any menu item as a salad and avoid the bread. And a rotating selection of salad fixings keeps things interesting and provides some variety.
If you do eat bread, though, you'll definitely want to try theirs. Made from scratch using locally-sourced Cairnspring Mills flour, it's soft with a satisfying bite, and holds together well enough that you don't have to worry about it falling apart halfway through. And despite being rich, flavorful, and satisfying, the food leaves you feeling refreshed and not foggy or overly full.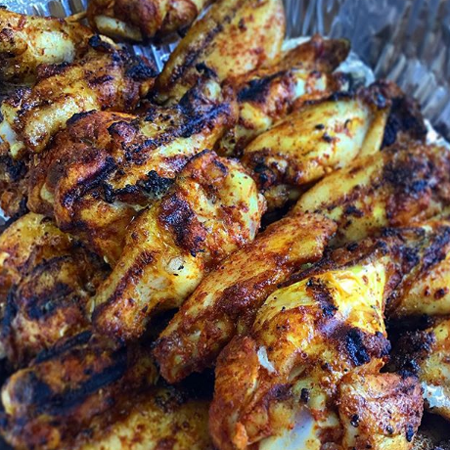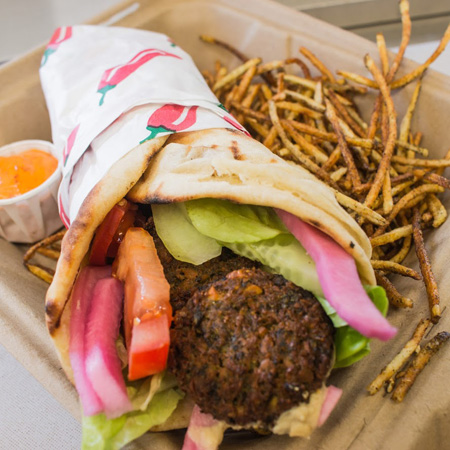 Not just the falafel and bread are made from scratch, either. Everything from the sausage in the gyros to the harissa and sauces are hand-made in the commercial kitchen at Salt Pepper & Oil before making their way onto the food truck and cooked to order.
And once you've got some of the delicious food, you can eat on a picnic bench right there, take it with you for lunch, or hop over to Menace Brewing or Goods Local Brews for a beverage to wash it down.
Beyond the food, though, Karl values relationships. Sourcing locally isn't just because he wants high quality ingredients. It's about being a part of the community. "I want to go past the transactional model of business and toward a more personal approach. I get to meet people, and I also wind up with a better product." This extends to customers as well, and he aims to develop relationships with the people who eat here.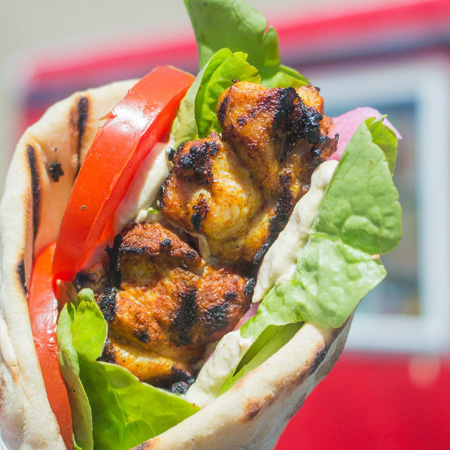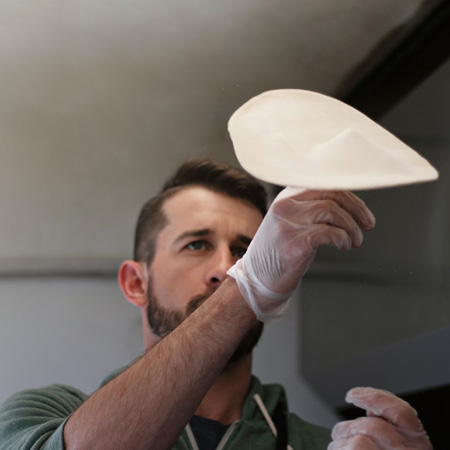 You might be asking why Karl, a Bellingham native, decided to focus on Middle Eastern food. Aside from the fact that it's tasty, it's also perfect for the fast casual concept. Karl also realizes that what he is doing may not be an option for some who grew up eating this style of food. "Most immigrants don't have the same access to capital or community resources needed to start a business," he explains. Karl aims to address this inequality. Kebab Casual has begun donating 1% of sales to carefully selected immigrant and refugee charities.
He also addresses another inequality, the relationship of business owners to employees. His long-term goal is to become at least partly employee-owned in order to minimize the pay gap between owner and employees. Ultimately he wants everyone to be able to do what he was fortunate enough to be able to do.
With all these things going for it, it's hard to imagine reasons to not eat at Kebab Casual. The food is great, fresh, and has options for a variety of diets. You're supporting local farms and food producers, and you'll be treated like more than just a customer. And ultimately you're supporting a business that's aiming to tackle inequality, a major issue facing our society. So support your community in the best way possible – by eating amazing food! You can find Kebab Casual in the parking lot across from WECU, outside breweries and at events this Summer, or at your catered event.
2604 Meridian St, Bellingham