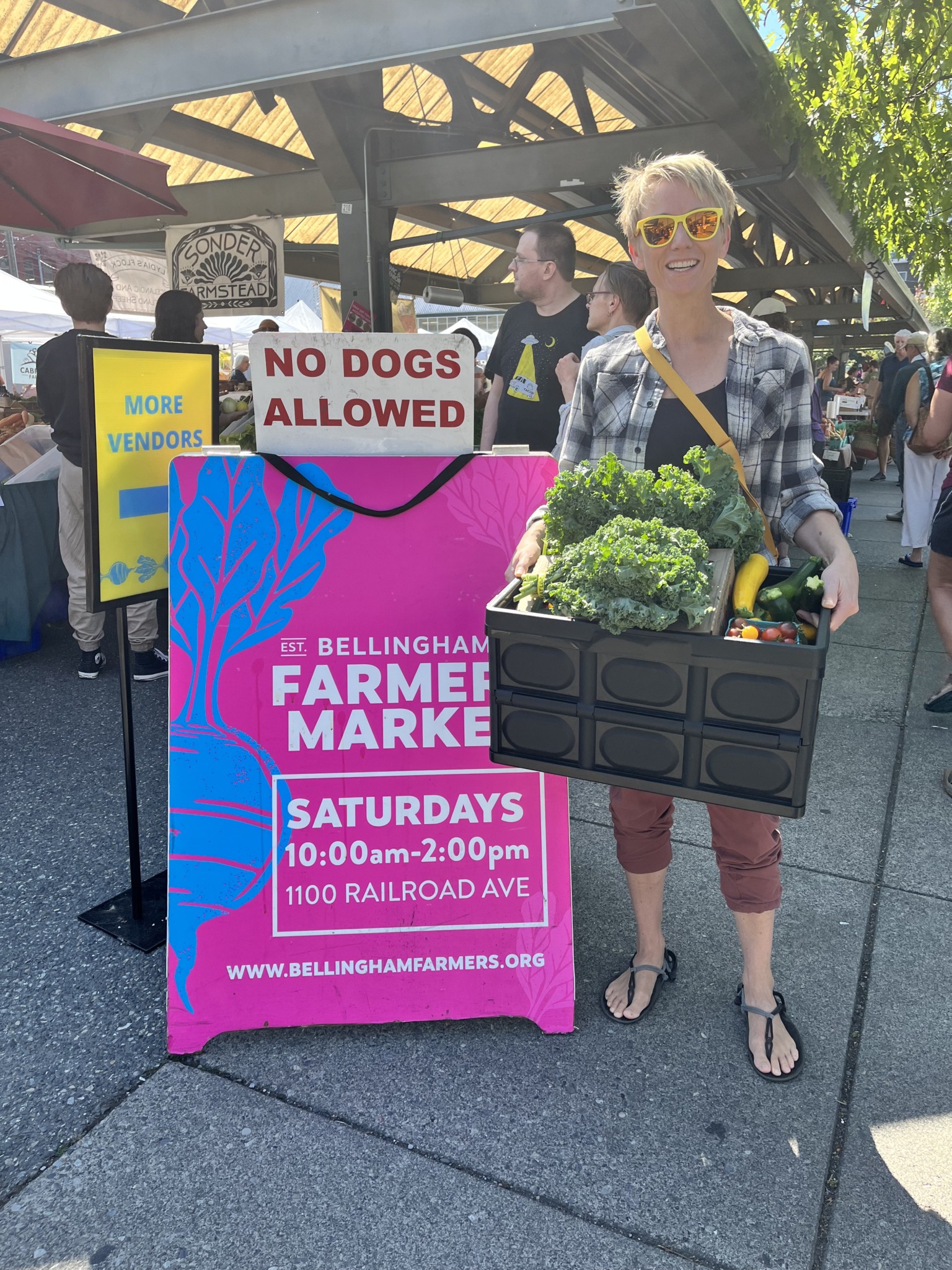 Plantage, a meal subscription service in Bellingham, serves delicious, nourishing meals to their clients. All their food is plant-based, sourced with care, and aligns with the values of the business – sustainability, transparency, and integrity. All this serves to create nutritious, plant-based food that keeps clients coming back for more, and keeps chef-owner Chris Wilson dreaming big about how to grow her community.  
As Chris explains, "What we do is bring the most local and sustainable produce we can to clients. It's similar to a meal subscription service you'd typically find being delivered to your home, but we really focus on being as close to zero-waste as possible and reducing our carbon footprint. All of our meals are portioned into compostable containers and then packaged in a reusable crate. Subscribers pickup their box of meals once a week. Since we're not shipping things, we're able to drastically cut down on our greenhouse emissions, as well as our packaging. The meals stay fresh because they're quickly blast-chilled here, and stored in our fridge until clients come pick them up and take them home. There's no gap; if you have food dropped off at your house, sometimes it's sitting there for hours so you have to package it heavily. That's one of the things we wanted to stay away from." 
Low waste and low environmental impact is just one of the values at the heart of Plantage. Another is supporting their clients and community in accessing fresh, delicious food. Feeding people nourishing food has been one of Chris' career goals and passions. Chris shares, "I went to culinary school in Houston and cheffed there for a while before taking extended time off to raise a family. We ended up in Seattle, and then Bellingham, where I decided to go back to work because my kids were older. My family is vegan, and so I didn't have a lot of opportunities in the restaurant industry here. I wanted to stay in this industry though, so I tried my hand at being a personal chef. I wasn't sure if Bellingham was big enough for that, especially if my food was only vegan, but it was! The business kept growing. I put a website up, and people kept finding me. Through word of mouth, I got totally full with clients – I had ten a week!" That's when I hired Abigail to work with clients using my menus and recipe. When we quicky filled her schedule with 10 weekly clients I knew it was time to take another step forward.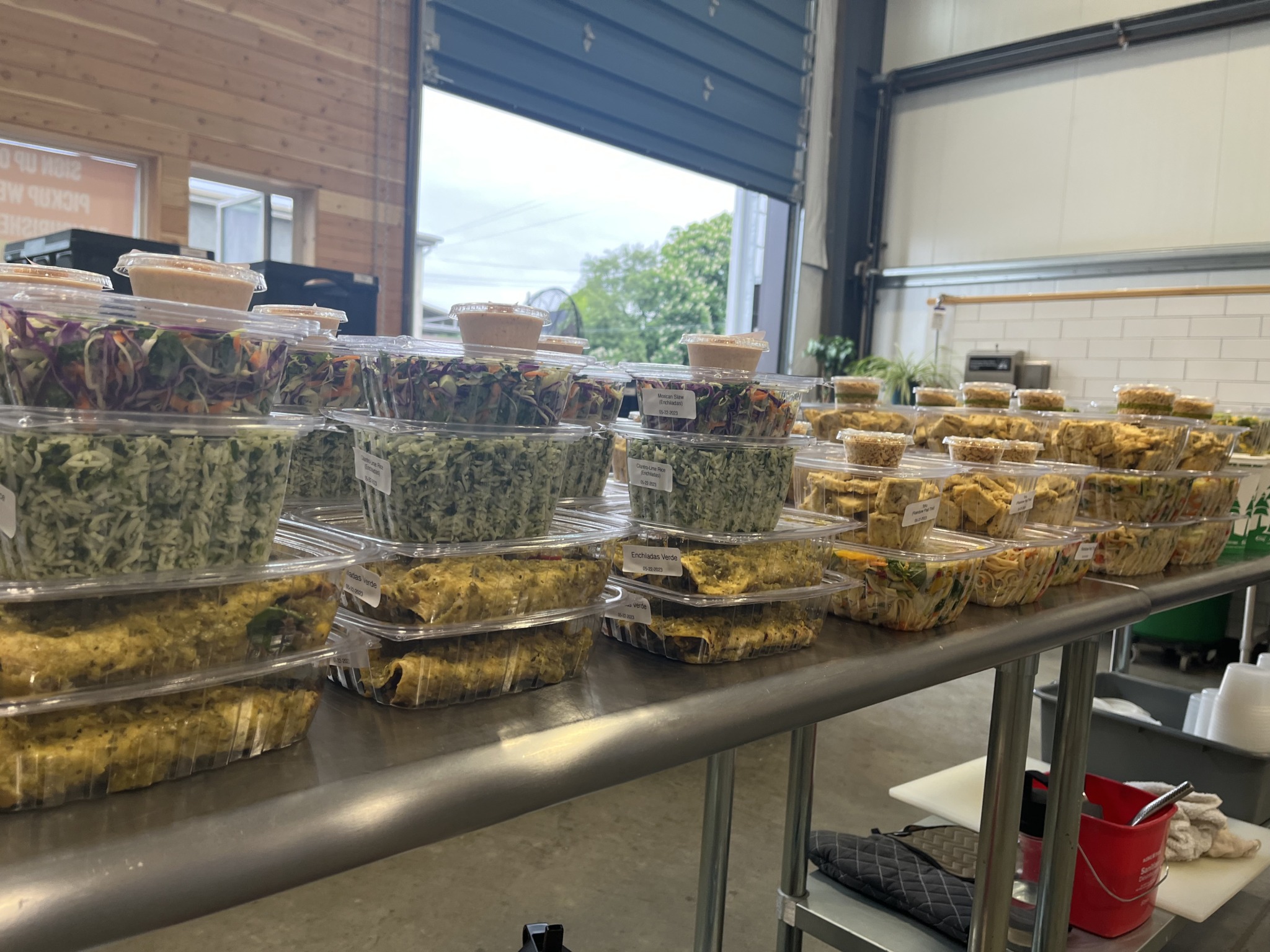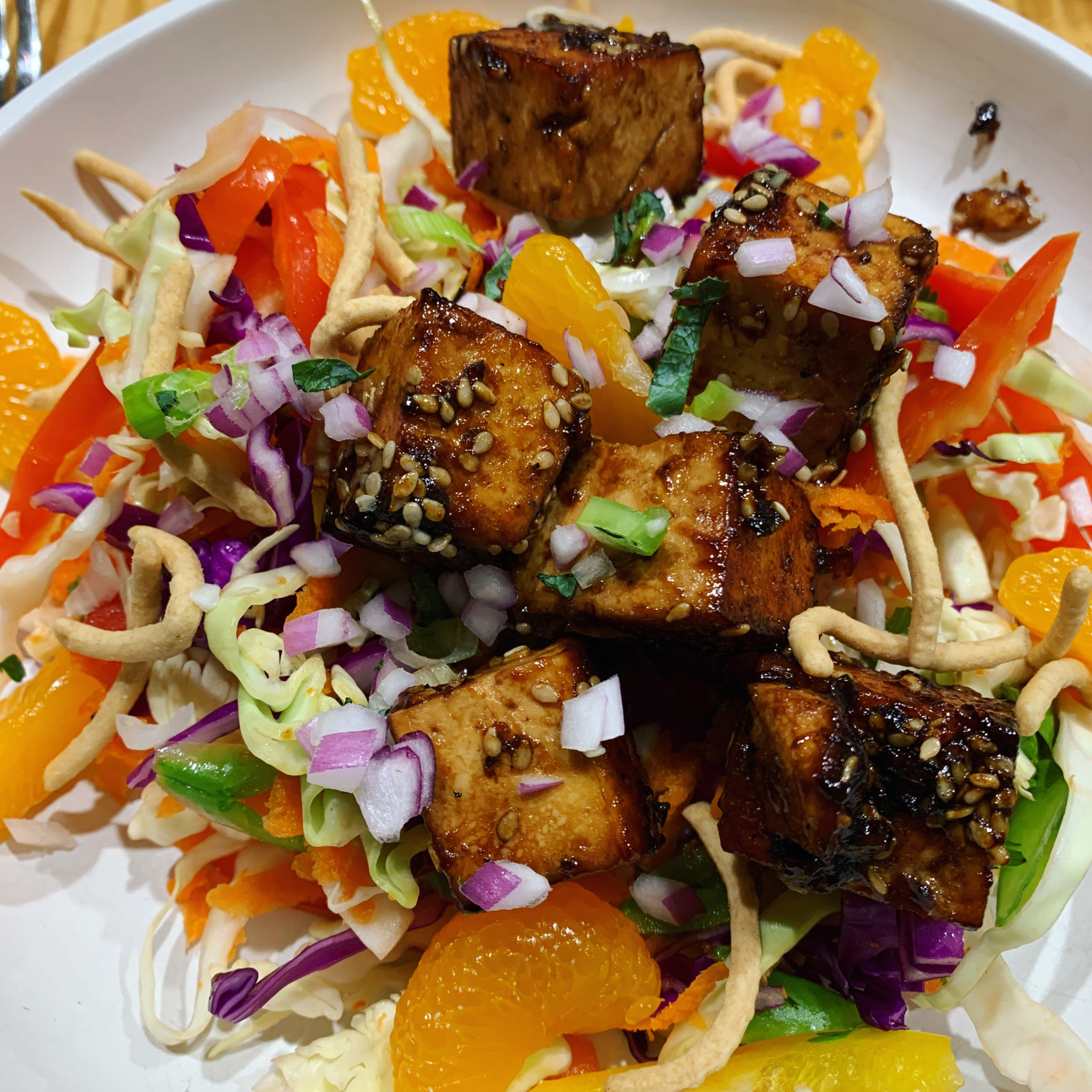 Chris loved the work, and the ability to develop relationships with her clients over time. But there were aspects of personal cheffing that began to feel at odds with her ethics and commitment to sustainability. "It was inefficient," she recalls. "I drove to multiple stores a day, drove to clients' houses and back. It was a ton of miles in the car. I prefer two wheels to four. It just didn't make sense, and I thought there had to be a better way to do it." 
It wasn't only the environmental impact that Chris was concerned about. "I loved the personal relationships we were developing with the families. But we were only able to reach so many people. There were people calling and wanting to come on board, and we just couldn't fit them all in. We really wanted to help – it was people who wanted to eat healthily but didn't know how, they wanted to go more plant-based but didn't know how. Not being able to serve more people was frustrating. "  
Chris began developing a business model that would enable her and her team to feed more people, as well as cut down on waste and driving distances. "The clients we have range on all ends of the spectrum," Chris says. "We actually only have a couple of vegan clients, maybe four. The majority just want to incorporate more plants into their diet, whether they're cutting meat out entirely or just reducing it. They want more nutrient-dense food. They want to eat at home with their family but they don't want to spend hours shopping, driving, cooking, and cleaning. Our business model suits a lot of different needs. We have many seniors, which I didn't anticipate. It's been a pleasant surprise. We have couples that don't want to go through the whole production of a meal but they want to sit down to a nice dinner that's restaurant quality in the comfort of their home. We have a lot of single people as well. And we offer the ability to pause subscriptions, which makes it more flexible for many."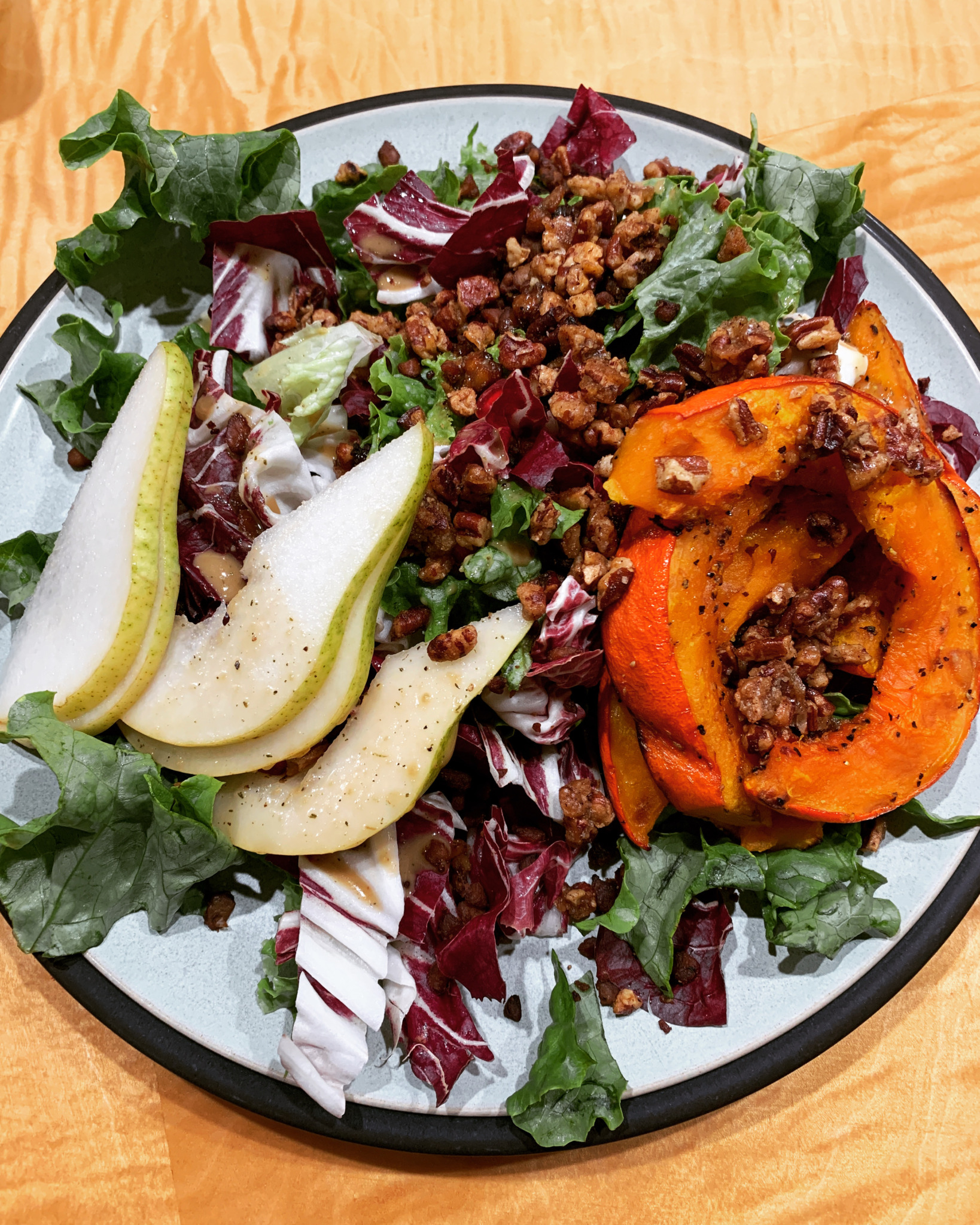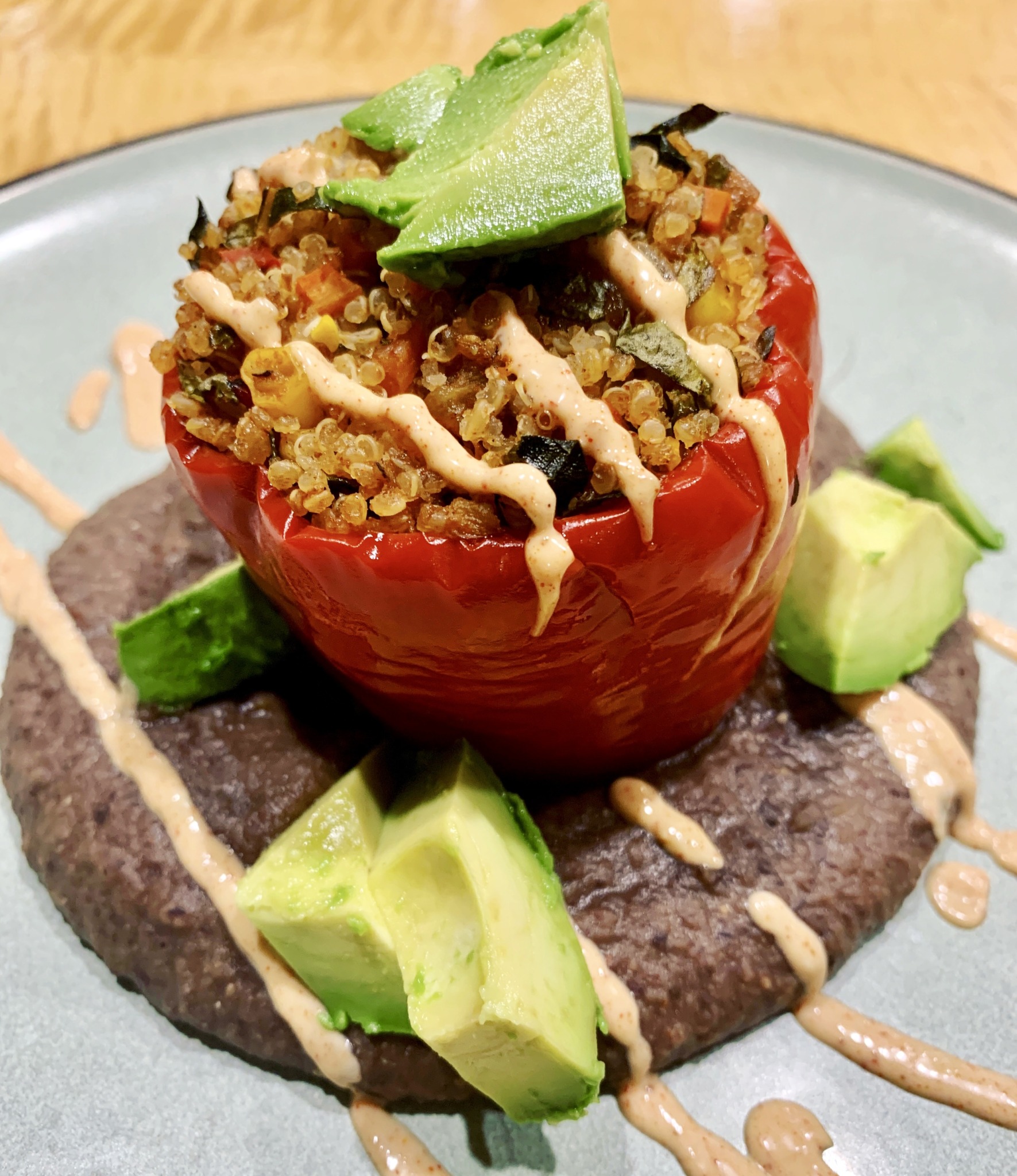 Plantage has an option for everyone. One constant, however – the food's quality, flavor, and commitment to seasonality. "I get excited about the change in seasons," Chris says. "It's always the most exciting thing. We recently did an heirloom tomato galette that was so good. We did a housemade cashew ricotta as a base, with some slow-cooked leeks, sliced cherry heirloom tomatoes, and a bunch of herbs. We served it with a summer soup that's a little like a minestrone, with the addition of kohlrabi. There's a pretty short season for that, so being able to incorporate seasonal, high-quality ingredients is awesome."  
High-quality products are integral to Plantage – as well as to Chris. "A big part of what we do is founded in my own personal ethics," she shares. "It's one of the reasons we want to be so transparent about what we do. A lot of the words we use tend to be buzzwords you'll see in the industry. Part of me doesn't even want to use them because when I hear and see them I sometimes don't believe them right away; often you hear one thing, see another, and they don't match up. That's not true here. Everything we say and do we say and do. Our commitment is to stay true to as little waste as possible, using as much of the product as possible, and sourcing as organically as we can possibly get." 
Chris finds her work deeply rewarding, "It's amazing to interact with clients. We built this space [their commercial kitchen] with a lot of intention – to be open air, to be completely transparent, and to have a communal environment. When you come in you're picking up your box, but you also have the opportunity to ask about where your food is coming from, why we did this or that. We get a lot of nutritional questions. Building these personal relationships with our subscribers is really fun, meaningful and rewarding." 
As Plantage grows, Chris hopes that in addition to taking on more subscribers, she and her team can build more community engagement. "We did the Sunnyland Stomp a couple of weeks ago, and it was so nice – the garage doors were open, the place was full. I barely took it in because I stayed busy giving tours of the kitchen and demo-ing our boxes. Every time I looked up, though, I saw so many  smiling faces, laughter, and strangers chatting. It fel  amazing to see that kind of energy. We built this space with intention to allow for a variety of activities such as cooking classes and demos. As we grow – in a really mindful way – I'm looking forward to interacting with the community even more."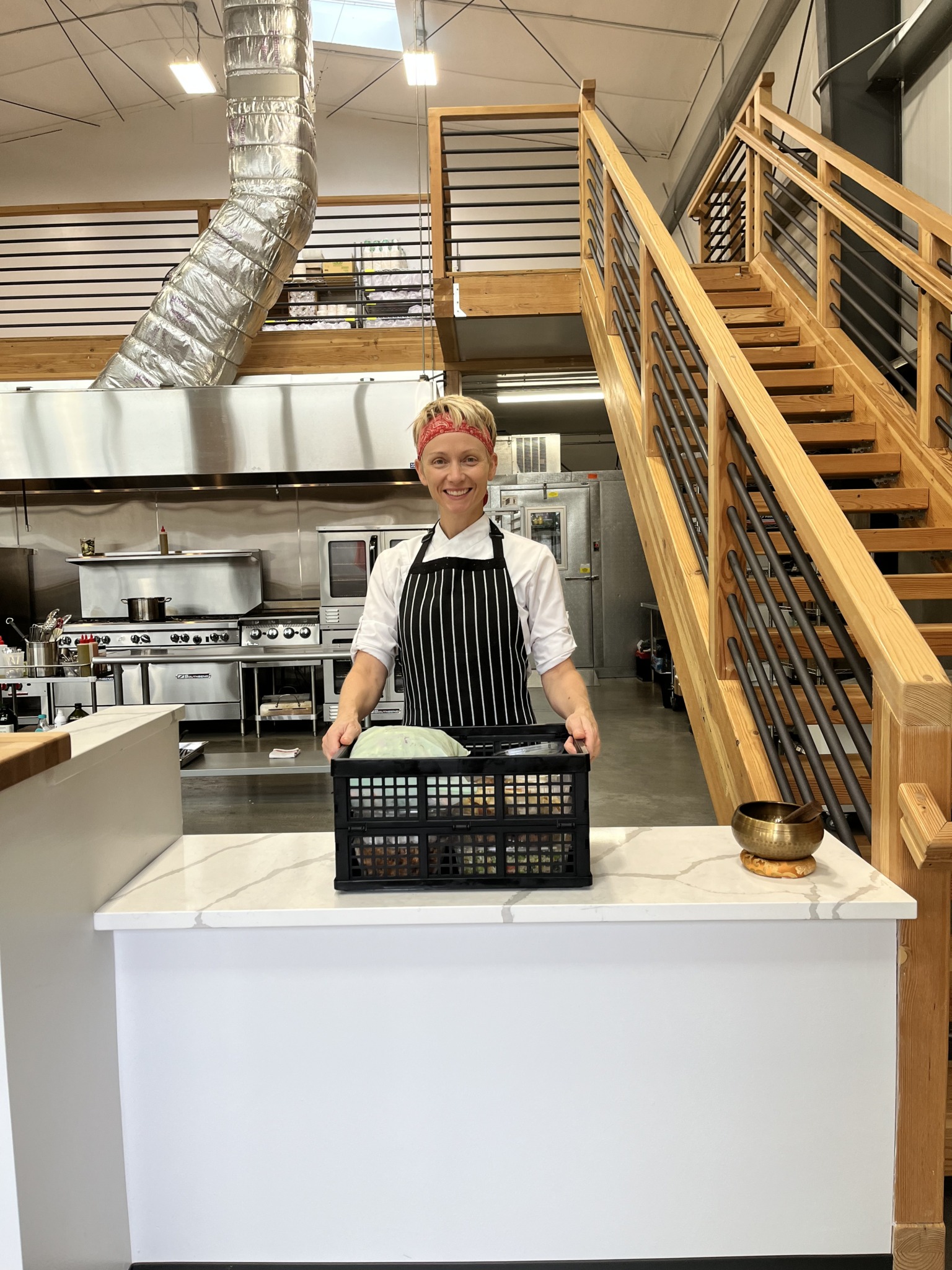 Learn more about Plantage here. They will be a featured restaurant during September Eat Local Month – a month-long celebration of local food! Be sure to stay tuned for their special and a chance to sample their delicious offerings.