2023 Details Coming Soon!
👇 Check out Eat Local Month 2022 details below to get a taste of what Eat Local Month is all about! 👇

Meet your farmer, chef, grocer, fisher
Join us for a month-long celebration of local food and those who grow, raise, fish, make, and cook it to share with us! All month long we'll be highlighting opportunities to meet your chef, farmer, fisher, and grocer and experience the unique flavors of our region.  
All Year Long!: Eat local and win! Check in at local farms and restaurants—each stop is an entry to win a local foodie prize.
Discover local restaurants, farms, markets, and hot spots for a taste of Whatcom County's best foodie experiences. These local businesses use the freshest ingredients sourced from local farms, fishers, and makers in Whatcom County. Visit the unique places that put our region on the map all while unlocking discounts, promotions, and prizes, too!
Get to know your local farmers markets, fish markets, and grocers
Sept. 1-9 Market Week: Farmers markets, fish markets, and grocers are bountiful at the end of summer, and well into the fall – come enjoy, and support your local market vendors!
Meet Your Farmer
Sept. 10-16 Farm Week: Learn about local agriculture and enjoy farm activities like: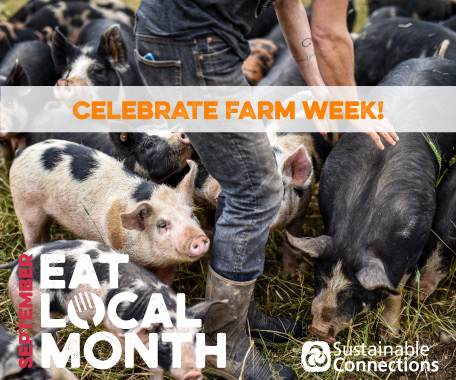 Find Farms Near You
Meet Local Chefs and Restaurateurs
Sept. 17-23 Restaurant Week: Local restaurants will feature menu specials comprised of 50% or more local ingredients – these specials run for all of September!
Meet Your Fisher
Sept. 24-30 Seafood Week: Enjoy the amazing flavors from our own Salish Seas
BRING HOME THE FLAVORS OF NORTHWEST WASHINGTON, AND GET A TASTE OF WHAT GROWS HERE!
Thank you to our partner farmers markets for providing some fun, tasty ways to enjoy produce and products you can get at your local farmers market! With the help of some local markets, we've got some delicious local recipes for you to try at home!