The Sandwich Showdown competition was fierce and delicious, but we've finally crowned a winner! More than a thousand sandwich enthusiasts cast their votes, and the winner (with a whopping 20% of the vote!) is Calico Cupboard Cafe & Bakery's PNW Sandwich!!!!
Y'all really loved their combination of a local farm fresh egg, Tillamook sharp white cheddar, bacon, avocado, tomato and garlic aioli on their Calico Cupboard Rosemary Roasted Red Pepper Focaccia.
Congrats, Calico Cupboard! And thank you to all the participating restaurants, to all you sandwich lovers, and to this epic community for their deep passion for good food!
Sandwiches are — dare we say it? — the bread and butter of a Northwest Washington spring. This classic meal is the perfect way to celebrate the season of fresh veggies and sunny days. We're featuring the region's top sandwiches for your culinary enjoyment and inspiration.
All throughout April, sandwich-lovers like you across the region will vote on their favorite sandwich. Will the quality of the bread be superior? Will the cheese and veggie combos outshine the competition? Or do these sandwiches simply have that je ne sais quoi?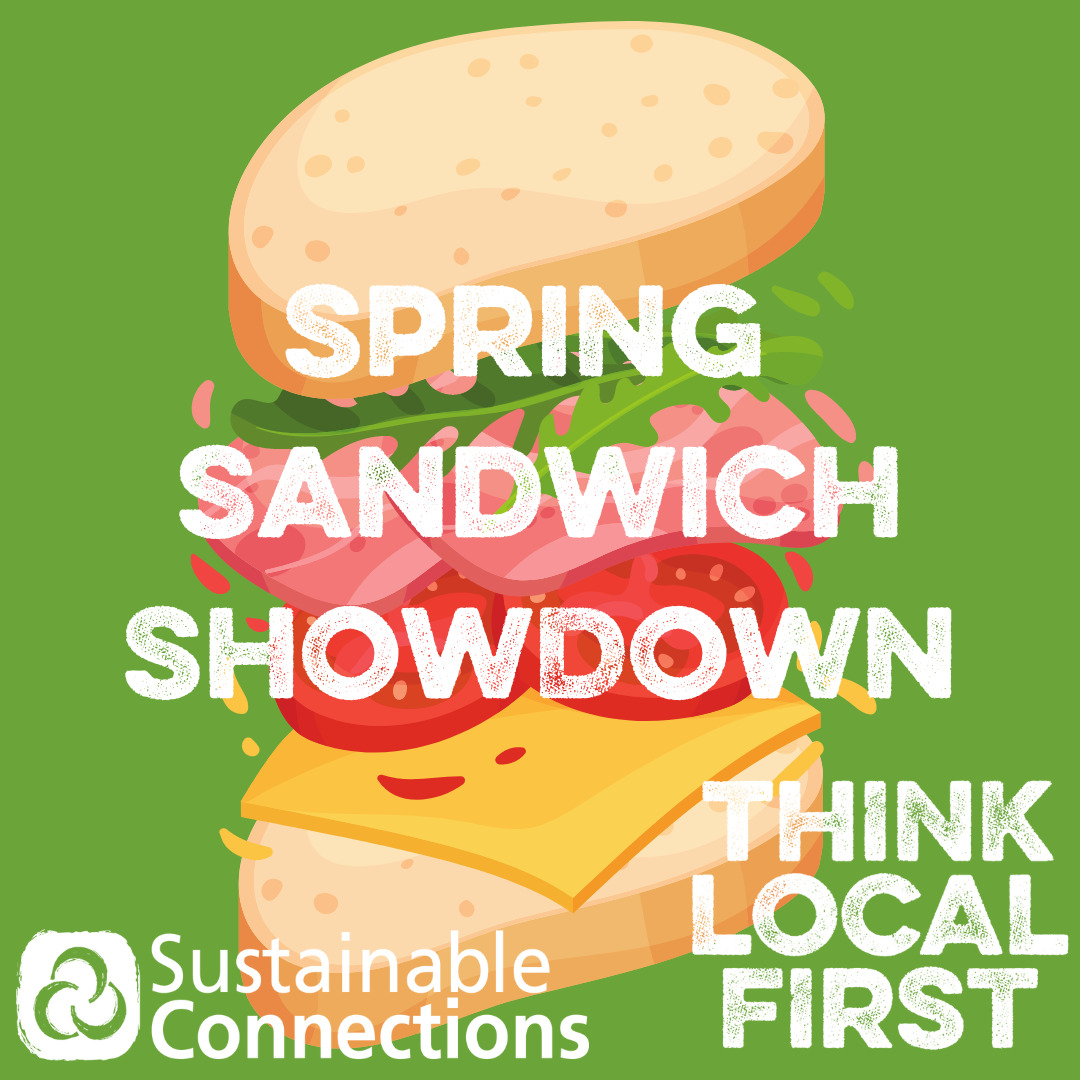 Want to win one of our ultimate sandwich baskets full of local sandwich goodies? Vote for your favorite sandwich and you'll be entered to win! Don't forget to sign up for our New & Events newsletter and follow us on social media to find out about future events and fun ways to support local businesses.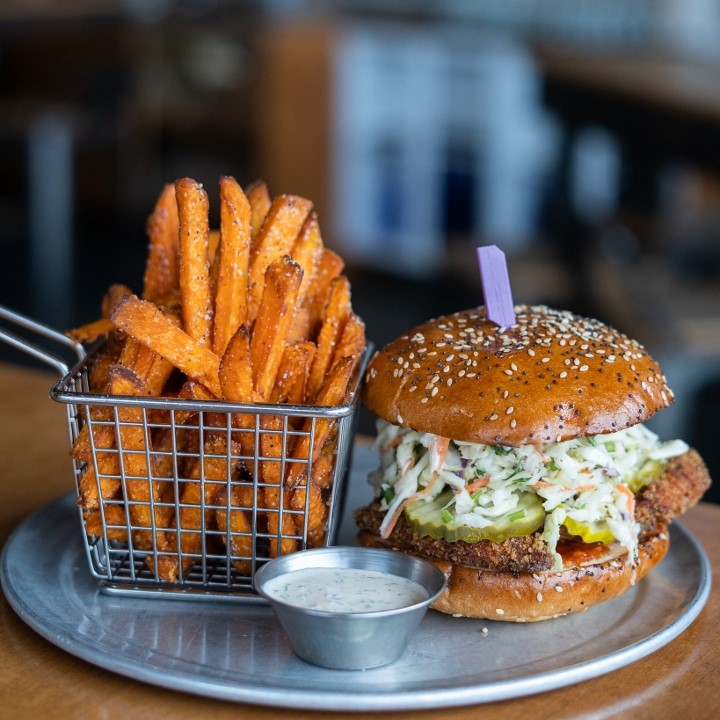 Aslan Brewing: Spicy Chicken Katsu
Spicy Chicken Katsu Sandwich on a Avenue Bread sesame seed bun, Spicy Aioli, Pickle, Cilantro Lime Coleslaw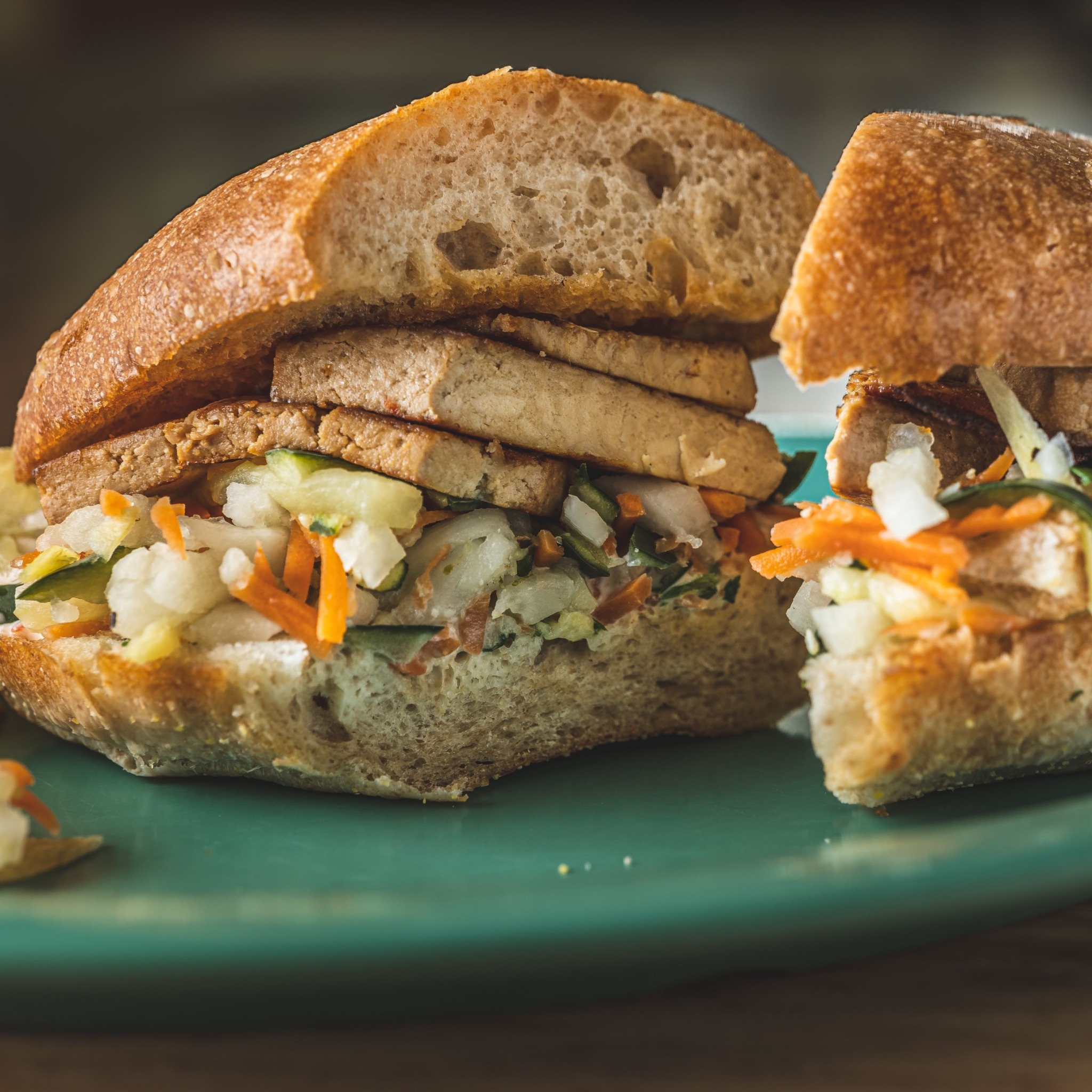 Avenue Bread (Fairhaven): Tofu Banh Mi
Tofu Banh Mi A grilled Vietnamese style sandwich with marinated tofu, pickled veggies, fresh cilantro, and a drizzle of our sambal chili sauce piled high on an Avenue Bread French roll.
Avenue Bread (James St): Spicy Philly
Spicy Philly Our house-made roast beef grilled with jalapenos, red peppers, caramelized onions and melty pepper jack laid out with jalapeno cream cheese on a French roll made at the Avenue bakery. All the mess none of the stress!
Avenue Bread (Lynden): Spicy Cuban
Avenue Bread – Lynden
Spicy Cuban Sandwich Our take on the classic Cubano, our French roll comes loaded with pulled pork, Jack Mountain ham, pickled pepperoncini, yellow mustard, and melted pepper jack cheese.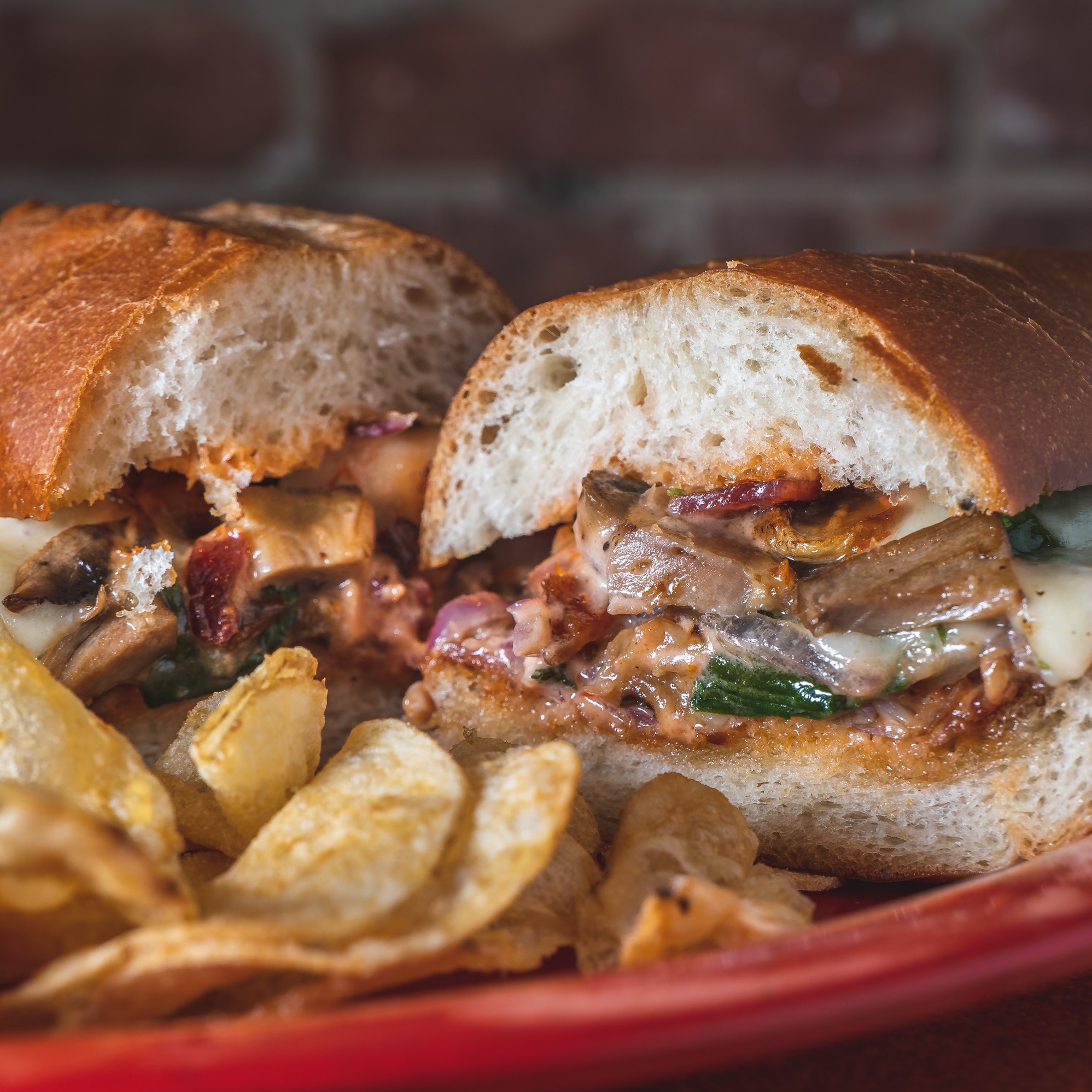 Avenue Bread (Railroad): THE CREATION
"THE CREATION" This sandwich lovingly named by our crew downtown is a true monster. In order from bottom to top on a French roll: Roasted Garlic Grilled chicken Crispy Bacon Sauteed Spinach Red Onion Swiss Cheese & House Made Russian Dressing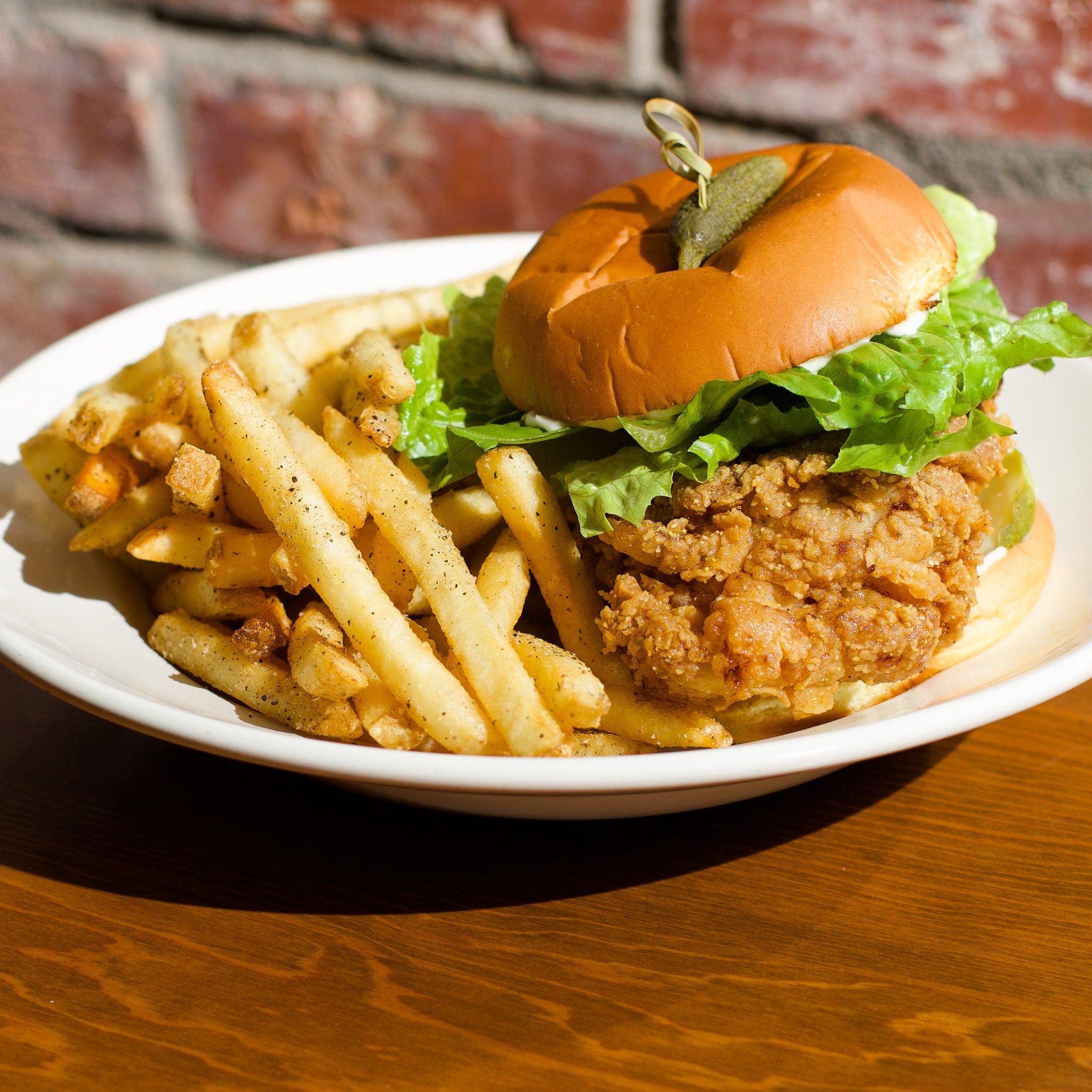 Bantam: Line-Cook Fried Chicken Sandwich
Line-Cook Fried Chicken Sandwich The one that started it all!
Featuring our signature fried chicken (thigh), pickles, lettuce, mayo, on a Martin's potato bun. Served with fries. Lots of options to customize it: make it hot, add bacon or cheese, and lots more. Come see why people love the chicken sandwich at Bantam!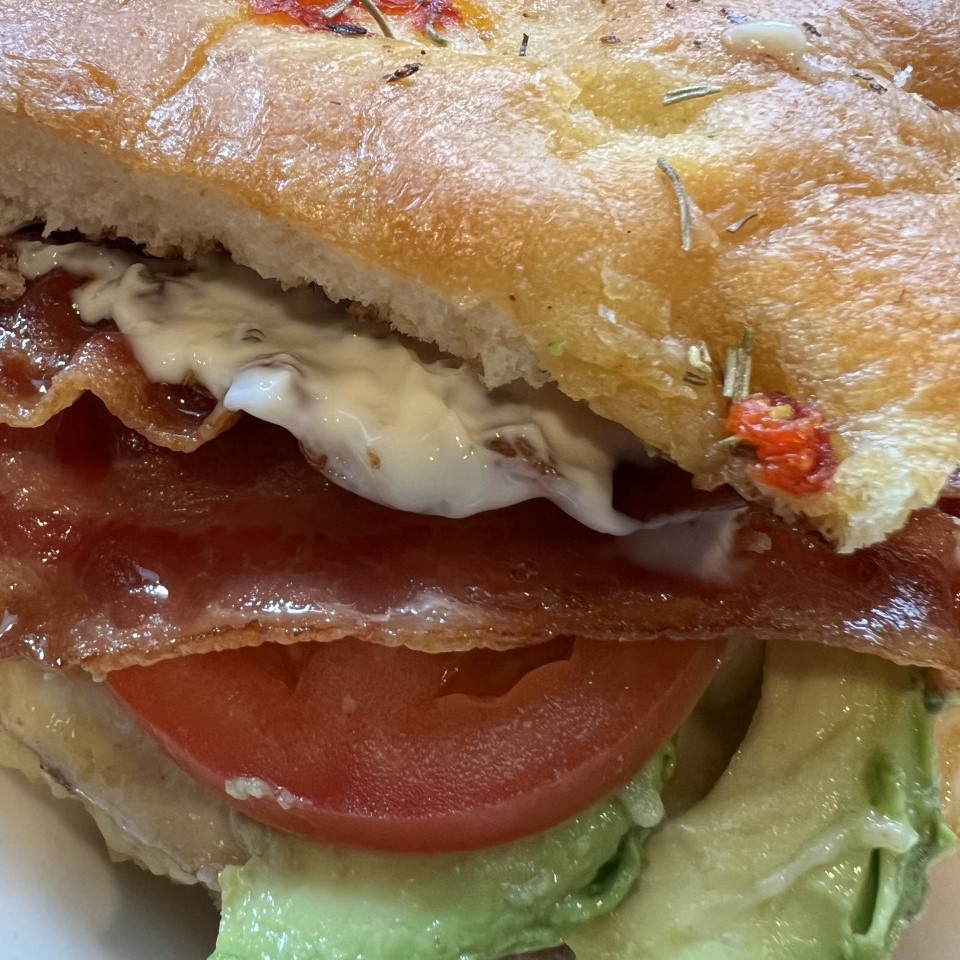 Calico Cupboard Cafe and Bakery: PNW Sandwich
PNW Sandwich A local farm fresh egg, Tillamook Sharpe White Cheddar, Bacon, avocado, tomato, garlic aioli on our Calico Cupboard freshly baked Roasted Red Pepper Rosemary Focaccia served with local Skagit Valley country style potatoes.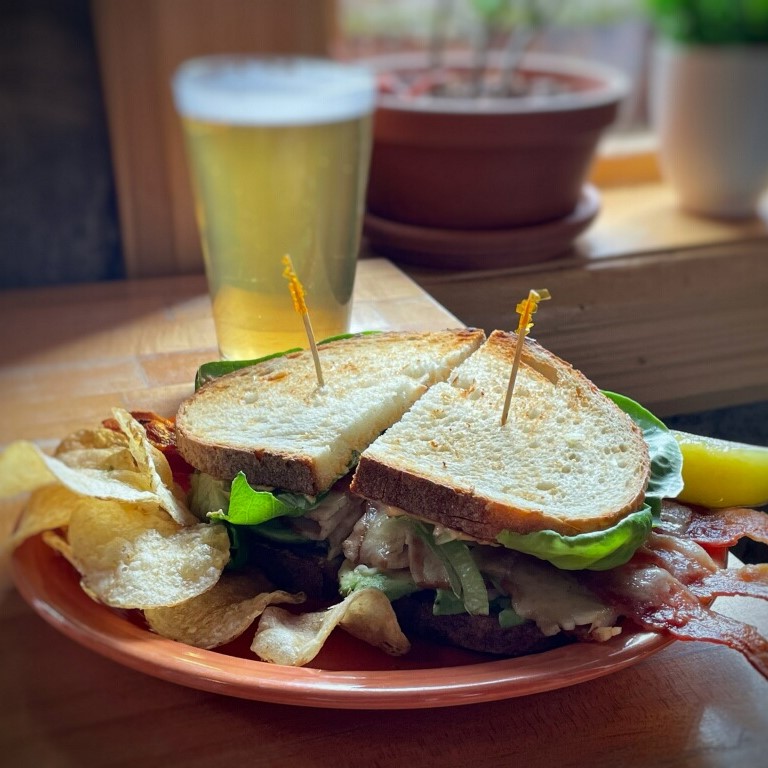 Colophon Cafe: Southwest Club Sandwich
Colophon Cafe
Southwest Club Sandwich
Sliced turkey, bacon, and melted Swiss cheese with chipotle mayo, avocado, tomato, and greens on toasted artisan sourdough bread.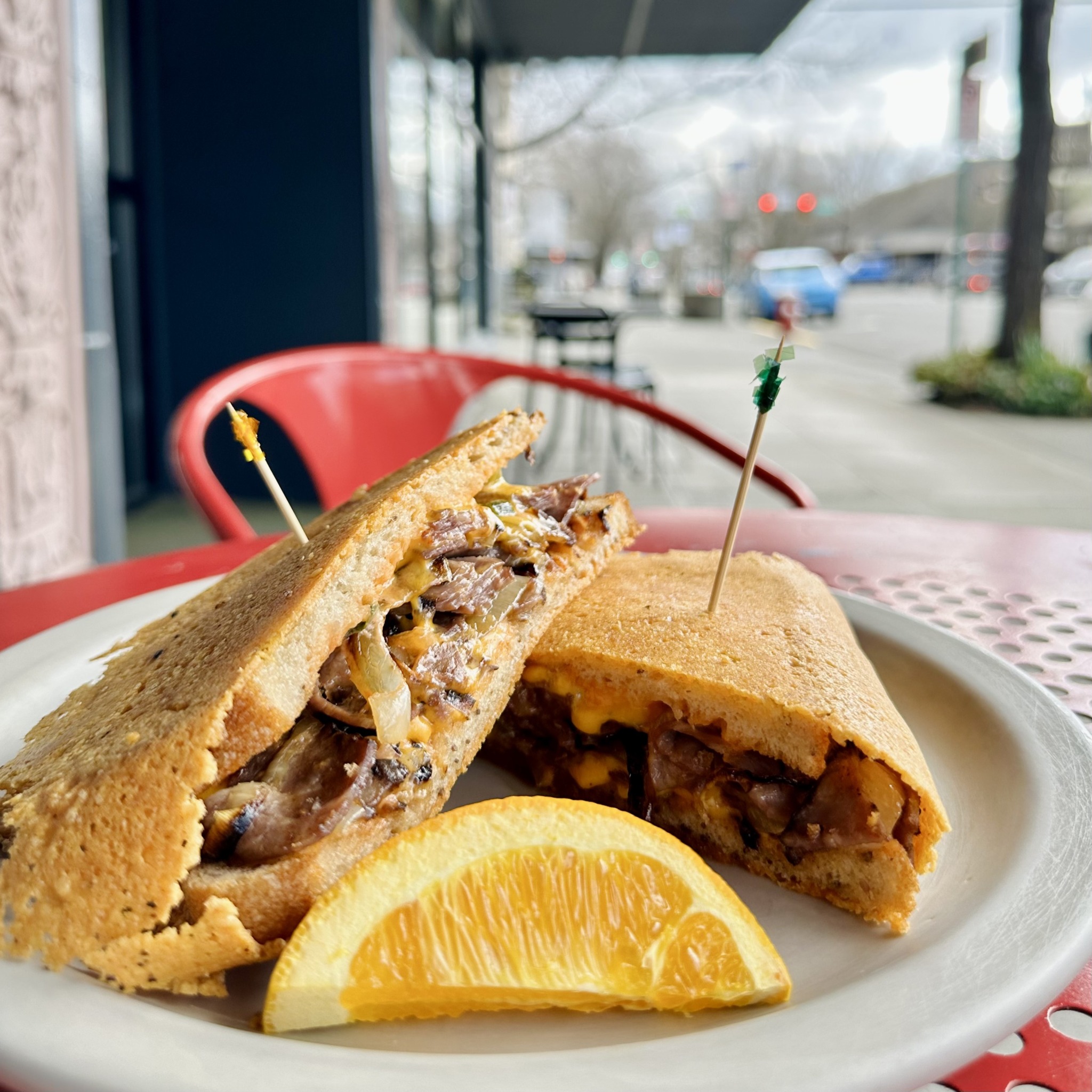 The Daisy Cafe: The Box Car Sandwich
The Daisy Cafe
The Box Car Sandwich
Grilled onion, our own Russian style dressing, melted American cheese and thin sliced and grilled roast beef sandwiched between two connecting layers of Parmesan encrusted NY Rye from Avenue Bread.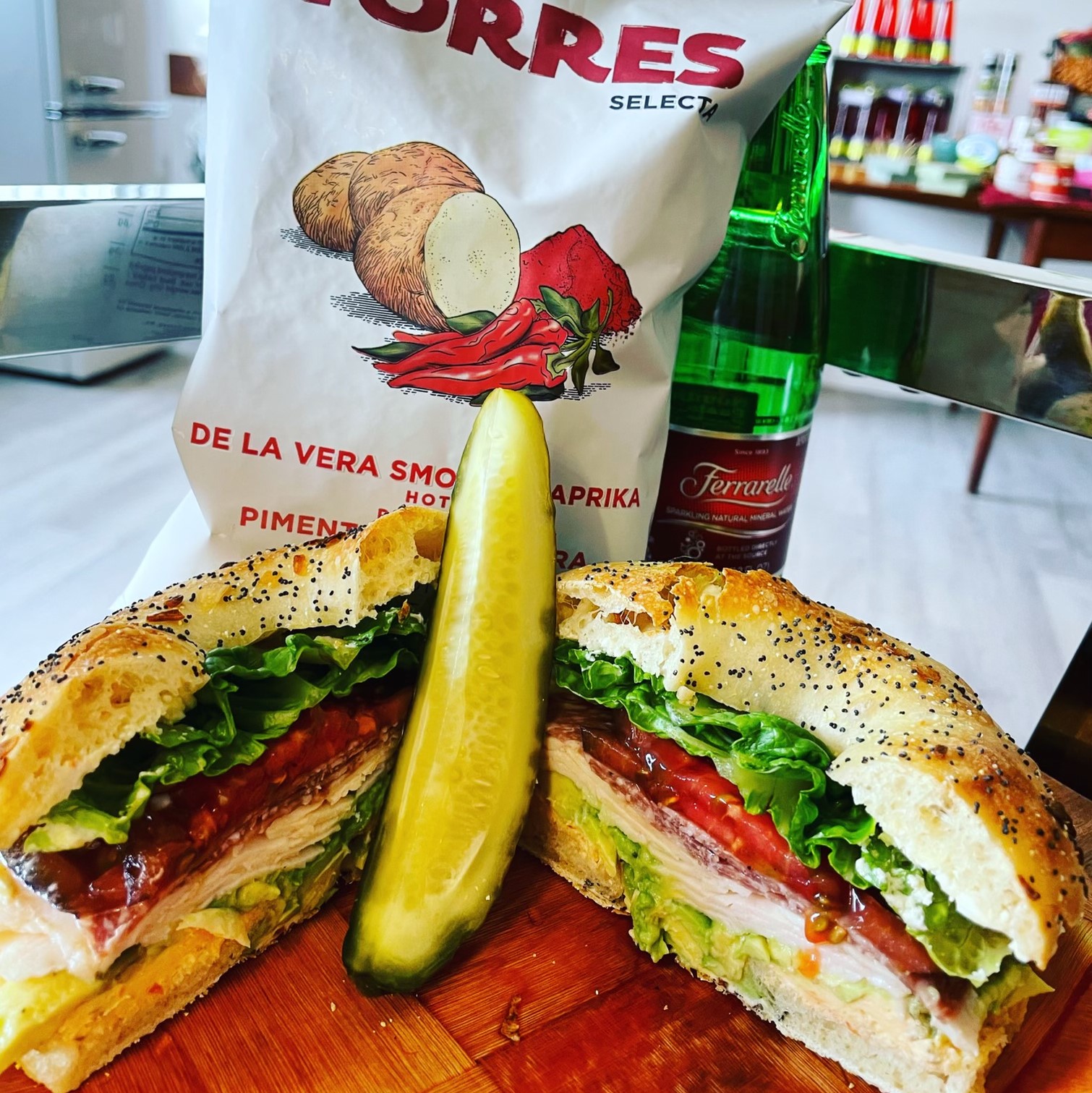 Hela Provisions
Bellingham Bagelry bialy with Antica Valle Smoked Tomato Pate & Chèvre spread, Asaro Castelvetrano Muffaletta, Avocado, Applegate Farms Organic Chicken, Fra' Mani Nostrano, Heirloom Tomato & Romaine with San Juan Island Sea Salt, Pepper & Salt Grinder.
Note: this isn't a sandwich you can order, but you can purchase all the ingredients and make for yourself (and your friends!).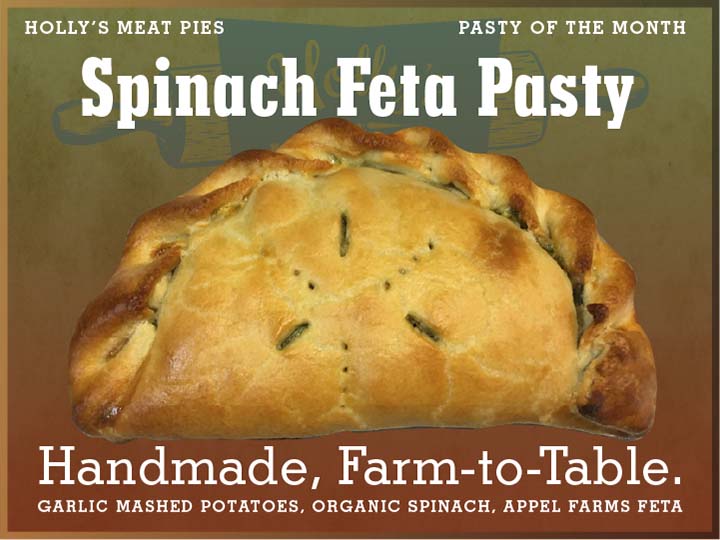 Holly's Meat Pies: Spinach and Feta Pasty
Holly's Meat Pies
Spinach and Feta Pasty
Organic Spinach, Broadleaf Organic Potatoes and Onions, Appel Farms Feta all wrapped into our Fairhaven Organic Flour Pastry!
Homeschool BBQ: Smoked Brisket Biscuit Sandwich
Homeschool BBQ
Smoked Brisket Biscuit Sandwich
Homeschool's signature salt & pepper rubbed, smoked and slow roasted Brisket, with House Giardiniera Relish, "Otherlands Beer" Dark Lager Braised Onions and House Pan Dripping Dijonaise all atop one of our Scratch Made Biscuits. Served with you choice of side too!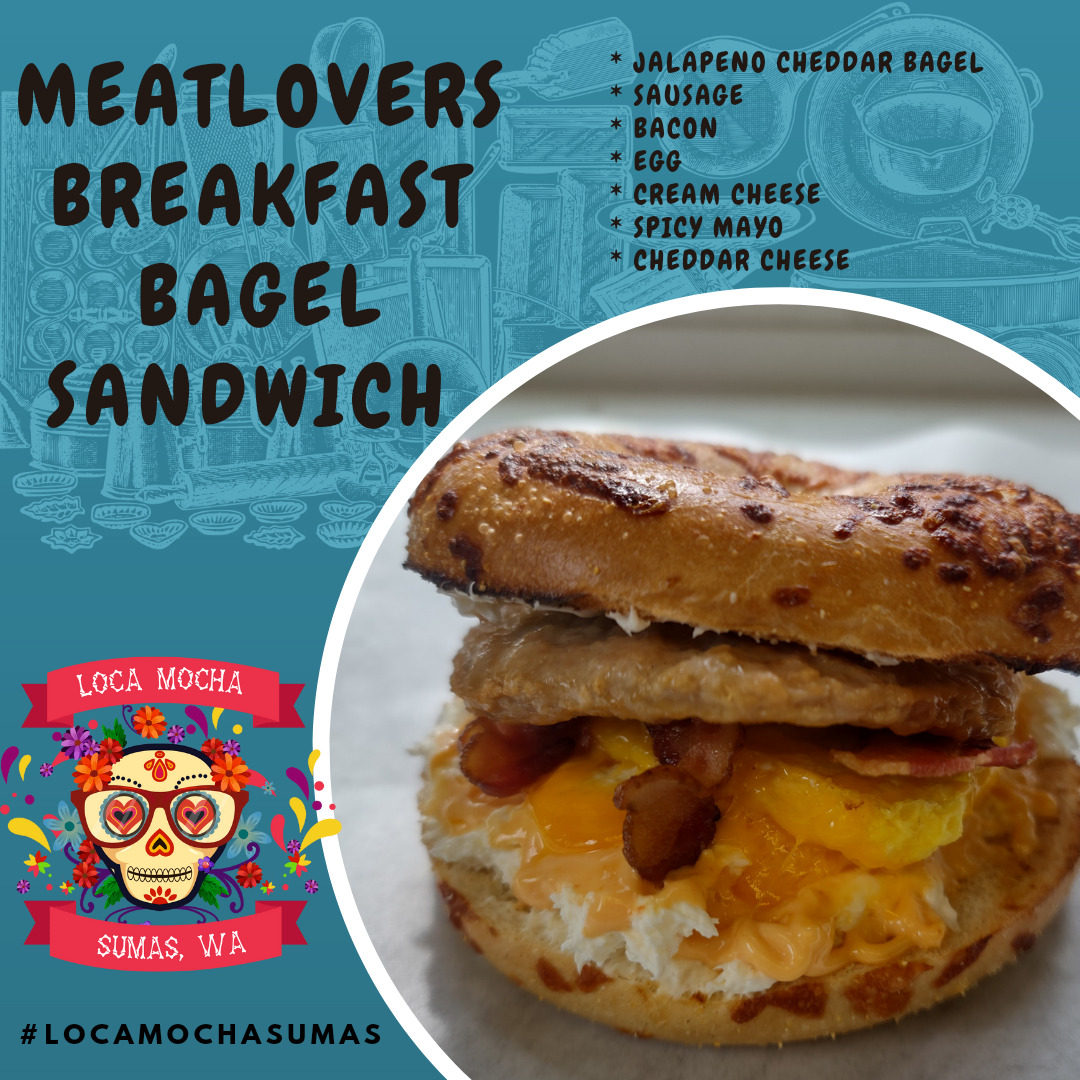 Loca Mocha: Meatlovers Breakfast Bagel Sandwich
Loca Mocha
Meatlovers Breakfast Bagel Sandwich
* Jalapeno Cheddar Bagel * Sausage * Bacon * Cream Cheese * Spicy Mayo * Cheddar Cheese * Egg Hearty, filling and so delicious!
Mallard Ice Cream: Poptart Ice Cream Sandwich
Mallard Ice Cream
Poptart Ice Cream Sandwich
Poptart Ice Cream Sandwich!? Sounds like a dream come true. Load up your poptart sandwich with any two flavors on the flavor board!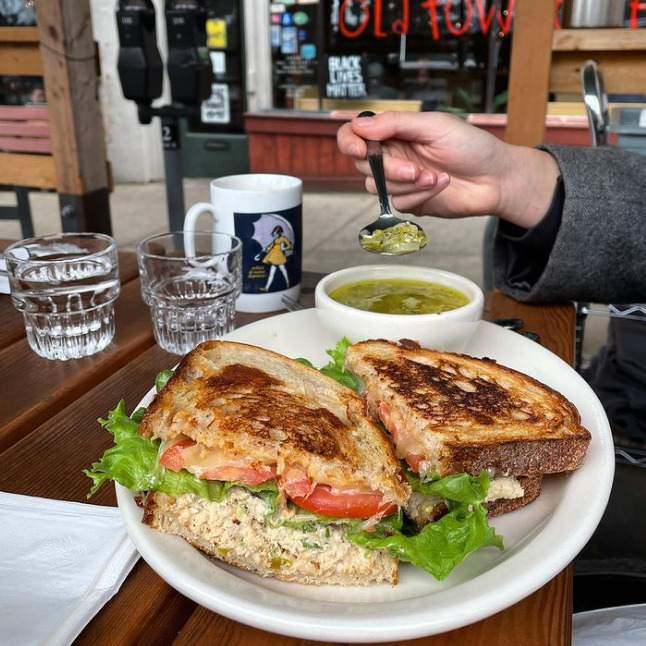 Old Town Cafe: Jalapeño Tuna Melt
Old Town Cafe
Jalapeño Tuna Melt
Locally processed albacore tuna from Wild Paciic Seafood with chipotle mayonnaise, pepper jack cheese, lettuce and tomato on Great Harvest whole wheat or sourdough bread.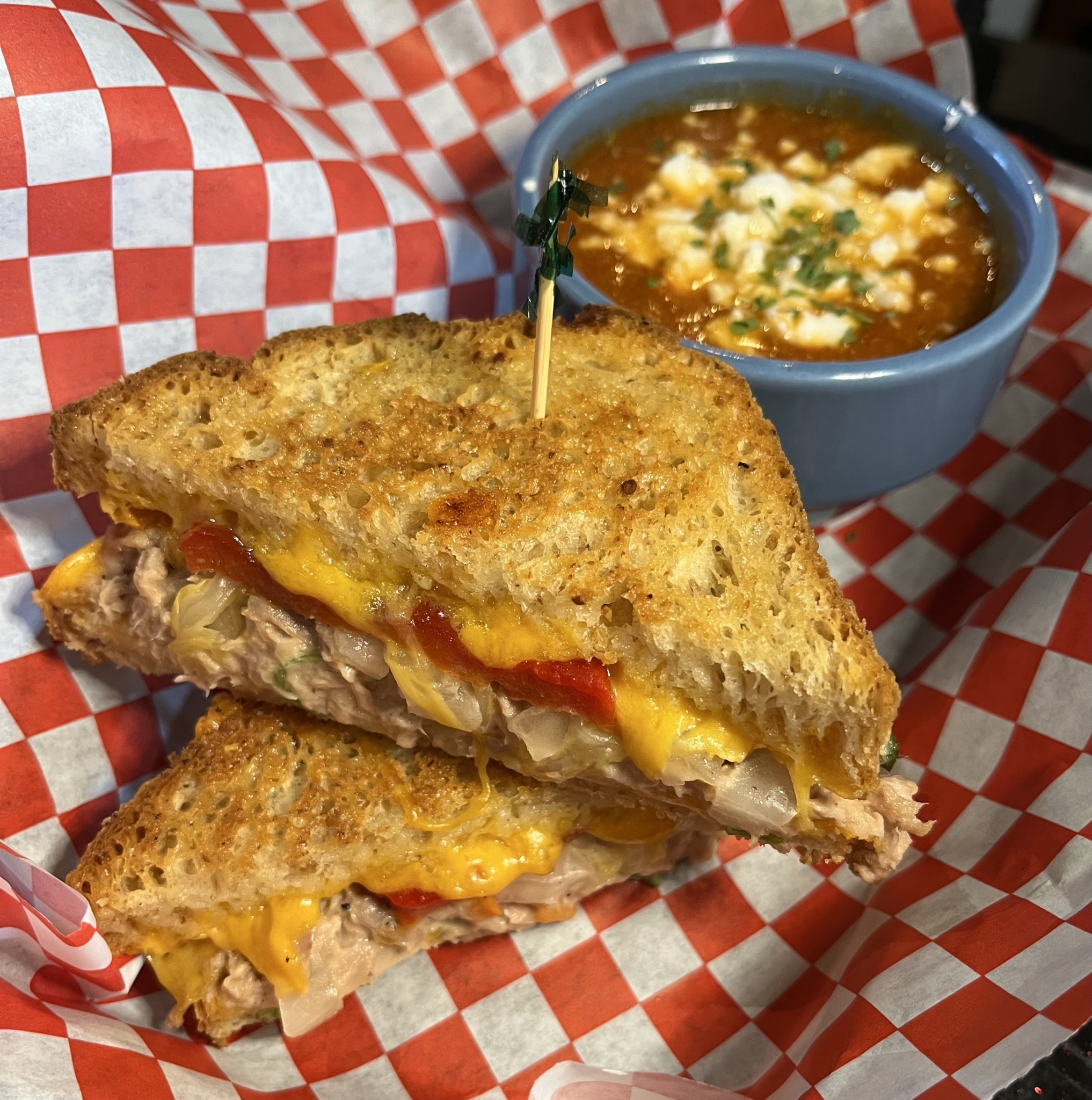 Shambala Bakery and Bistro: NW Tuna Melt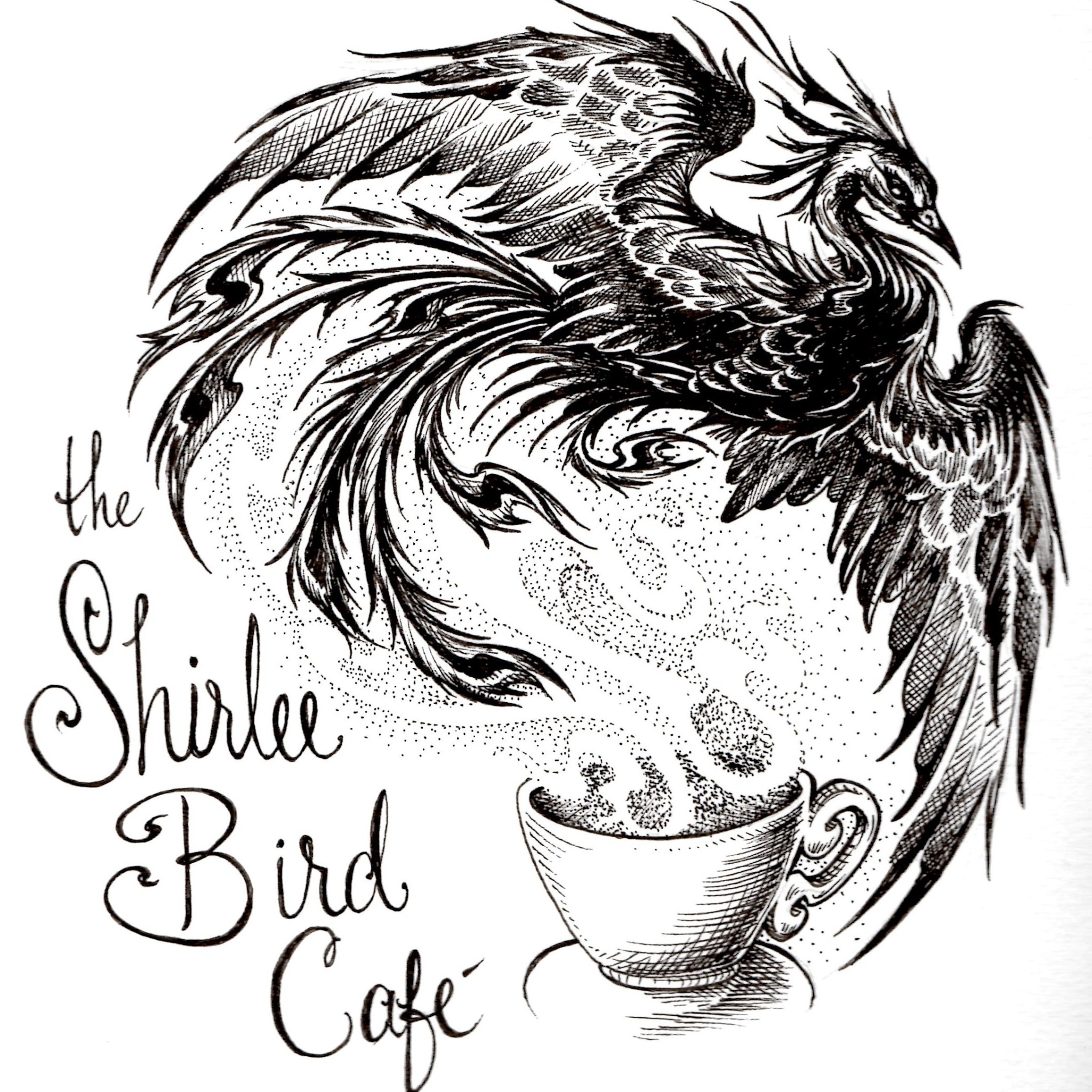 Shirlee Bird Cafe: The 3B!!!
The 3B!!! Grilled roast BEEF, smoked BACON, BLUE cheese, and savory tomato preserves on sourdough pressed between cast iron plates til delightfully crunchy and fulfilling. Just like the 3B Tavern was.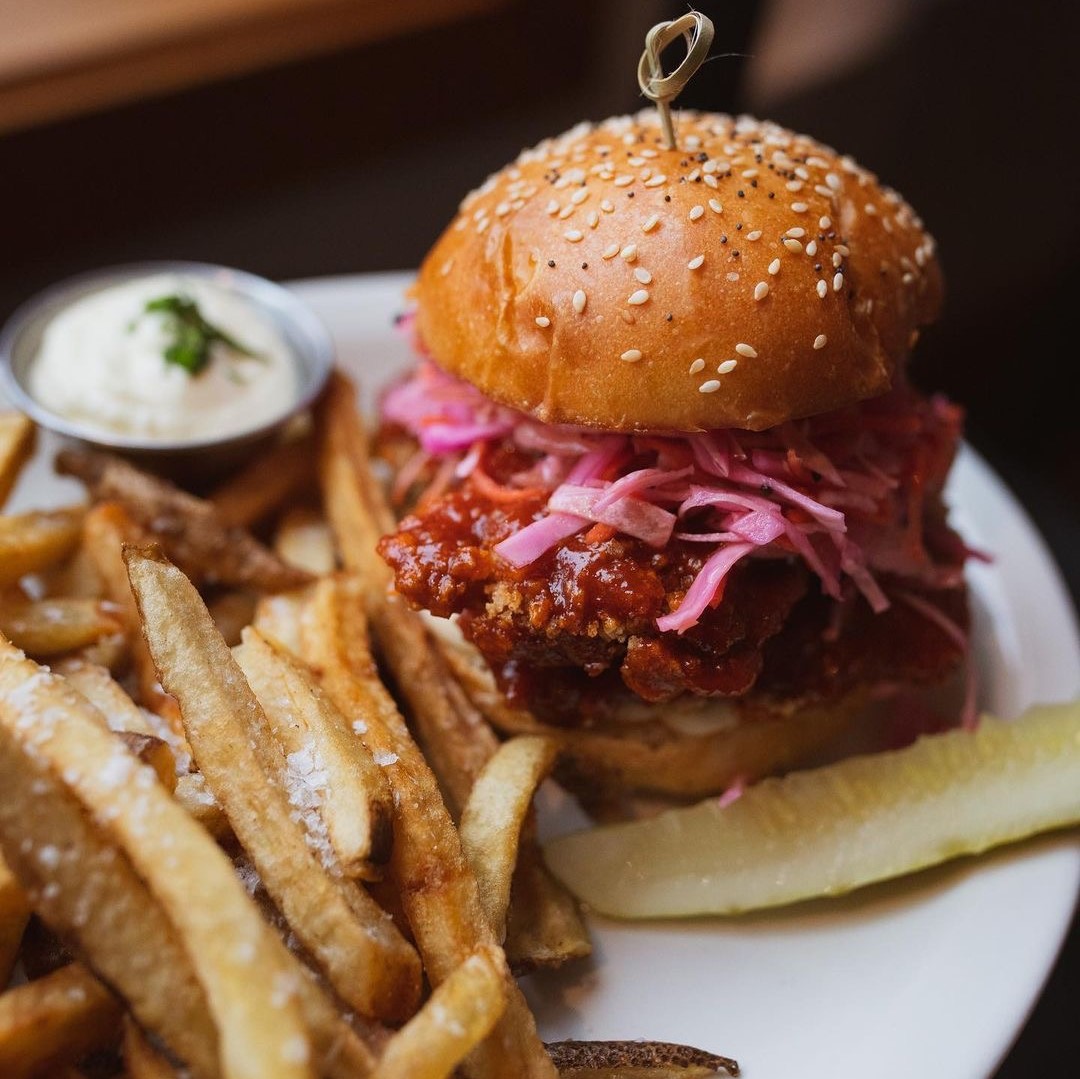 The Bistro at Shuksan: #6 Spicy Chicken Sandwich
#6 Spicy Chicken Sandwich
Gochujang house sauce Glazed Fried Chicken, Avenue Bread Bun, Cabrera Farms Cajun Slaw, Garlic Mayo.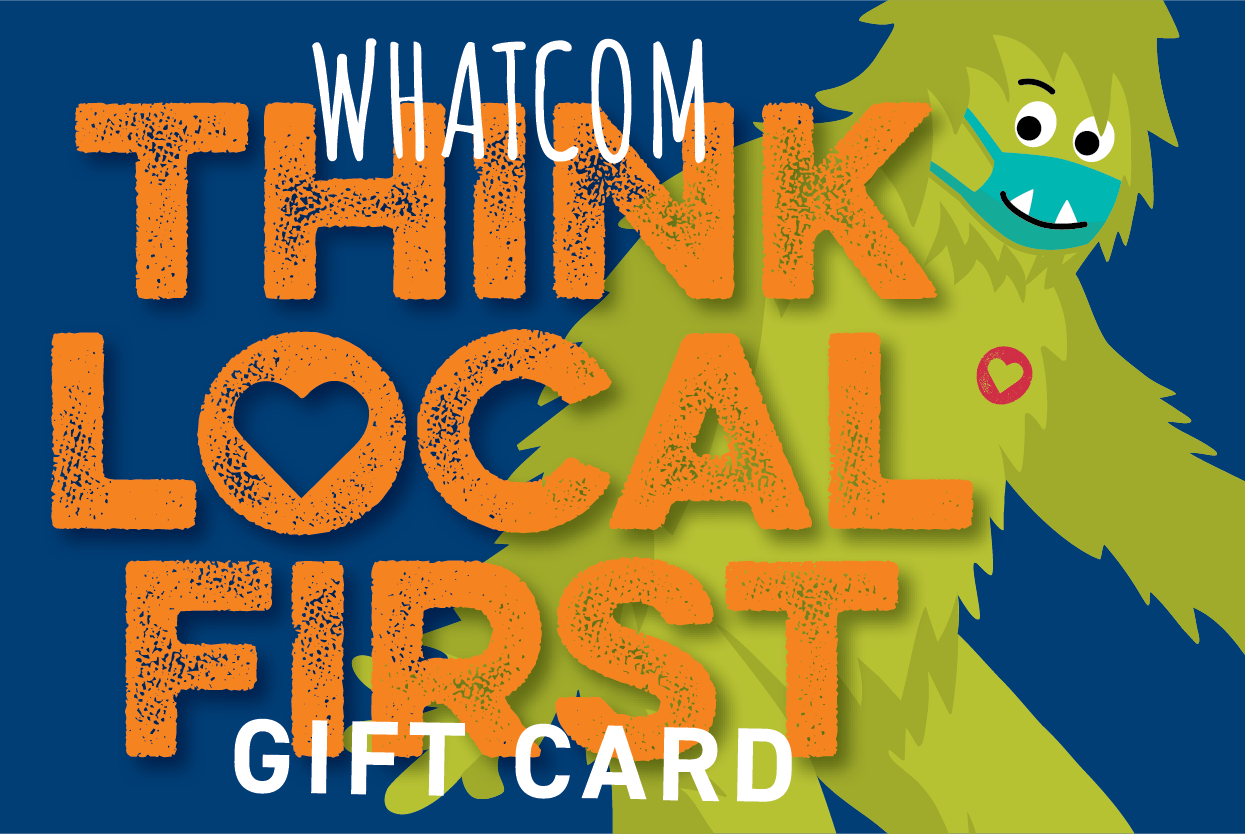 Whatcom County's Think Local First eGift Card has many of your favorite retailers, restaurants, services and entertainment in one place. Use the Think Local First gift card at any participating location in Whatcom County — there is truly something for everyone!
How does it work? Choose your recipient and send your gift card via email or text message. The recipient can use it to make purchases at participating businesses.