Reduce food waste at home
Let's slow climate change and make our big-footprints smaller.
Well, every year in the United States alone…
of the food we purchase is tossed
cars' worth of CO2 emissions is produced by food rotting in a landfill

of us believe we don't waste food
Volunteer
Drive for our Food Recovery Program. We pick up prepared, perishable foods from restaurants and deliver the food to hunger relief agencies.
Donate
Don't have time to spare? Donate to our Food Recovery Program instead! While we can't accept food donations from non-commercial establishments, any money donated will help us buy supplies for the program.

Squatch!
Reduce food waste at home! Become a Savvy Squatch by shrinking your footprint.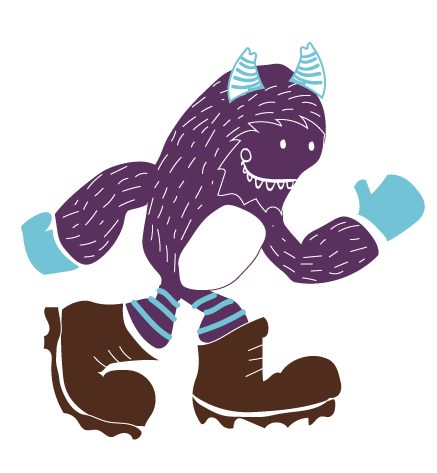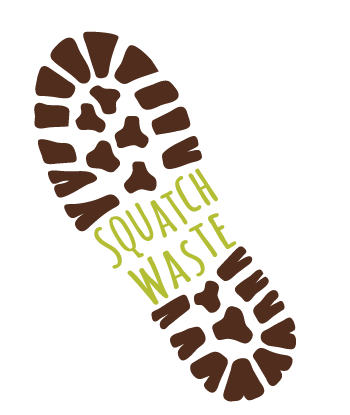 Get Savvy with Squatch
Want to minimize your impact and reduce food waste? Learn from Squatch's resource roundup on how to become a Savvy Squatch, just like them!

Reduce
Every Savvy Squatch knows to reduce your waste! Whether you're shopping for groceries packing lunch for the kids, hosting a dinner party, storing leftovers, or harvesting your garden bounty, learn how to reduce the amount of surplus food in your home. Click on the boxes for a deeper dive in each topic.

Food Safety​
Practice good hygiene with hand washing, holding temperatures, and general safe food handling. This will help you and your family stay healthy while battling food waste! ​
Meal Planning
Meal planning is something every Savvy Squatch does. Fast tips to make meal planning easy and awesome so you've got yummy, waste-free food all week!
Shop Smart & Save
Making some shifts to how we go about preparing, cooking, and eating can result in giant changes to how much we spend and how much we waste!
Deciphering Dates
Sell by, best by, expiration…what's what?! We've got you. Here's what each mean, and especially what they mean when it comes to food safety!
Storage Guides
Check out this comprehensive food storage guide from the NRDC. You'll learn everything you need to know about freezing, storing, and saving food.​
Eat First
Move the foods you should eat right away front and center in the fridge. Fridge organization is a simple and easy way to squatch food waste.
Resourceful Recipes
Who knew that cheese rinds, and bruised plums could make such treats? Thank you to the show Scraps for some major kitchen inspo.
Be a Scrappy Squatch
Save the Food has made the most comprehensive guide for using all those pesky food scraps. Everything from wilted parsnips, to brown avocados.
Cooking for Baby Squatch
From picky eaters to little grazers, here's a roundup on some ideas on cutting kiddo food waste. Tiny Squatches can be savvy too.
Preserve It
Want hands-on experience preserving food? Check out:
For the DIYers
There's plenty of information on the web detailing how to preserve food! Make sure to take recipes from a trusted source to prevent foodborne illnesses.
Attack of the Zucchinis
We found these food preservation recipes that address abundant produce in the Pacific Northwest. Zukes are no match to a Savvy Squatch!

Participate
We have an amazing community of Savvy Squatches! Post your savviest ideas on social media to connect and share with others. #squatchfoodwaste
Participate
We have an amazing community of Savvy Squatches! Post your savviest ideas on social media to connect and share with others. #squatchfoodwaste
Participate
We have an amazing community of Savvy Squatches! Post your savviest ideas on social media to connect and share with others. #squatchfoodwaste
Feed Others
Are leftover foods unavoidable at your house? We get it! The next thing that Savvy Squatches do with surplus food, is find people to feed! Learn how you can do it at home.

Think Outside the Family Unit
Is there anyone you might bake some cookies for over the holidays? Tenants, landlords, neighbors, teachers, babysitters? Before throwing out that last piece of lasagna, see if they want some!
Buy Nothing
Become a member of your neighborhood's Buy Nothing group on Facebook. Post any surplus food to share on there. Make sure to practice safe food handling to avoid food borne illnesses. 
Apps for Your Ap(petizer)s
Do you feel more comfortable with an official platform to connect your leftover food to people? We get it! Take a look at this app, it connects leftovers to neighbors. Click on this square to learn more.

Feed Animals
Your family, neighbors, and friends are all well-fed and you still have leftover food? How about finding an animal to eat those scraps. Now that's some Savvy Squatch thinking!
Get Connected!
Do you have a friend with animals to feed? Chickens, pigs, goats, etc.? Ask them if they would like any of your surplus food!
Don't have any friends like this? Let Brandi know you have food for animals and she'll get you connected with a farmer. 
Squatch Waste, Feed Animals
We want to know how much food our Savvy community is keeping out of the landfills by feeding animals! Help us out by filling out our animal feed tracking form any time you bring your surplus food to those furry friends.

Compost
Some food waste is unavoidable. Squatch tries to come up with creative ideas to give these items a second life before sending them to the compost pile. And since Squatch lives in the woods with no fenced in yard, they opt for curbside compost pickup.
Coffee Grounds
Depending on the plants, coffee grounds can be a great soil addition. Our friends at Washington State University explain more.

Tea Bags
When in doubt, Squatch turns to the internet for creative ideas on how to handle unavoidable food waste. See what they learned about tea bags.
Egg Shells
Egg shells are useful in the garden! Deter pests, boost calcium, amend soil! There's plenty of ideas and suggestions online- and some may surprise you!

Meat Bones and Veggie Scraps
We all use broth for one recipe or another. Next time you're left with bones or veggie scraps, try your hand at making your own! 
Citrus Peels
The aroma of citrus peels is unlike any other. Squatch likes to soak their citrus peels in vinegar to make a cleaning solution. The internet is full of ideas again.

Compost at Home
Interested in learning how to start your own compost pile? WSU Extension, Whatcom County, has an amazing course on composting at home. Get Savvy!

For the DIYers
Prefer to learn how to compost on your own time? Take a look at some research-backed information to get tips and tricks. Your garden will be so happy!

Curbside Pickup
Squatch's favorite method of composting. They signed up for curbside compost pickup with FoodPlus! A simple method for busy Squatches.

Landfill
Unfortunately, even Savvy Squatches know that some food waste is destined for the landfill. You should feel really proud of the steps you took to avoid throwing food away!

Unavoidable Waste
Some food waste is unavoidable. We want to know what you ended up throwing in your compost or trash bin. We'll try and find creative solutions to prevent that waste in the future!

You're among the Savvy!
Nice work on Squatching your food waste at home! Once you take in all these resources and ideas, hopefully you'll see changes in your footprint and impact. Interested in learning just how impactful your changes are? Find out below with Food Waste Green House Gas Calculator! Don't forget to share on social media and connect with the growing community of Savvy Squatches. #SquatchFoodWaste