With winter comes shorter days and colder nights – and the desire to hibernate until spring returns. While it's tempting to wish the dark season away, it can be a potent time to tend to our wellness – as individuals and as a community. "Self-care" is a term that's been thrown around quite a bit, and while it can be easy to dismiss it as frivolous, self- and community care can be a powerful tool for transformation during the winter. We are excited to share a Winter Wellness Guide that highlights local businesses and organizations offering special discounts, courses, and plans to support your health. We also know it's not always all about you, though. We've provided a few other ways you can think about health and wellness this year, too.
It's not always all about you!
More Health & Wellness Tools
Programs such as the Community Energy Challenge provide expert assistance to help you create a healthy environment in your home with energy audits, comprehensive reporting, ongoing consultation, quality assurance, and financial incentives. 
The
Whatcom Housing Alliance
creates opportunities for more diverse housing choices in all neighborhoods that will contribute toward equitable, prosperous, healthy, and vibrant communities for everyone.
30% of the food we purchase ends up in a landfill emitting CO2 emissions. Learn what you can do at work, at home, and in our community to reduce food waste with Sustainable Connections'
Food Recovery Program. 
Think Local First
makes it easy to find what you need locally, celebrate where you live, and put what matters most first. Keep your dollars where your heart lives, support a healthy economy of friends and neighbors, and build a community that thrives by thinking local first!
The nursery at Cloud Mountain Farm Center opens February 2, with regionally adapted fruit trees, ornamentals, and unique plants for edible and resilient landscapes. Your purchases there support food system innovation, resource sharing, and new farmer support in Whatcom County.
When everyone in our community is healthy, we all do better. Additional community resources can be found in this directory from the
Whatcom Asset Building Coalition
.
Whatcom Think Local First Gift Cards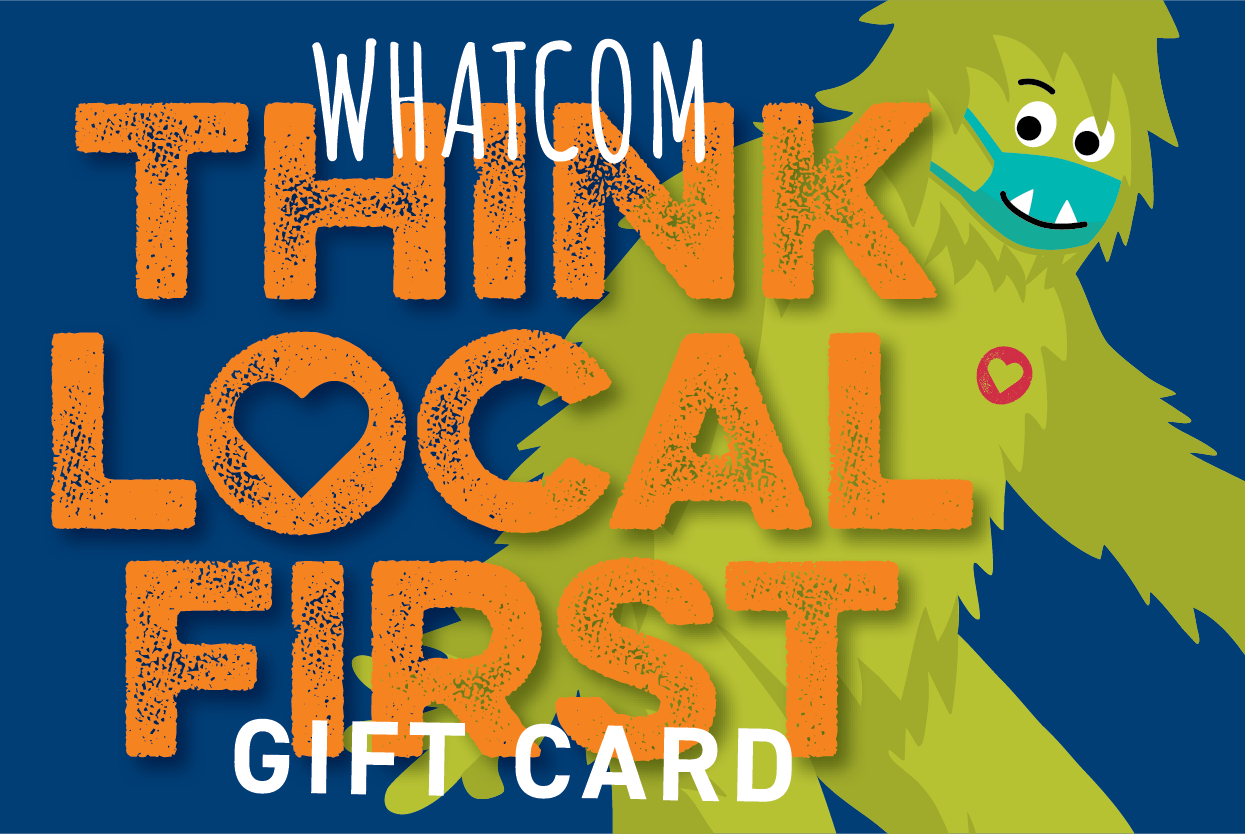 How does it work? Choose your recipient and send your gift card via email, text message, or print it out and hand deliver it. The recipient can use it to make purchases at participating businesses.
The Following wellness-focused businesses accept Whatcom Think Local First Gift Cards:
3 OMS Yoga, A Touch of Wellness, Avalon Acupuncture and Chinese Medicine, BBay Running, Barre3, Bellingham Community Acupuncture, Bellingham Sportsplex, Binyon Vision Center, Blaine Healing Arts Massage Therapy, Crosier Skincare Proaging and Acne Spa, Day to Day Dance, Fairhaven Runners and Walkers, Flow Motion, Flying Bird Botanicals, Health and Exercise Prescriptions, Honey Salon, Intent Hot Yoga, Joy of Pilates & Fitness, Kara's Beauty Barn, Little Bird Salon, Living Earth Herbs, Lynden Skateway, MJ Esthetics, MoonSea Holistic Healing, North Coast Gymnastics Academy, New Life Chiropractic & Wellness, Northwest Life Medicine Clinic, O'Neill Massage Therapy, Prime Sports Institute, Resilient Acupuncture and Fire Cupping, Salon Aloha, Sandalwood Salon and Spa, Serene Footfalls Reflexology, Shanti Center, The Beauty Mark, The Chrysalis Inn and Spa, The Metta Center, The Spice Hut, Topaz Salon + Gallery, Velocity Athletic Training, Veritas Massage Studio, Vital Source Natural Medicine
Show your love of local with a custom "Think Local First" or "Drink Local Frist" tee, tank, or sweatshirt. Suuuuper soft cotton-polyester blended fabrics are sure to keep you comfortable and stylish this summer! Don't need another tee shirt, but still want to support local? Consider a Think Local Frist
donation
,
gift card
, or browse our
online directory
of locally owned businesses before running to that big box store or ordering from an online giant.