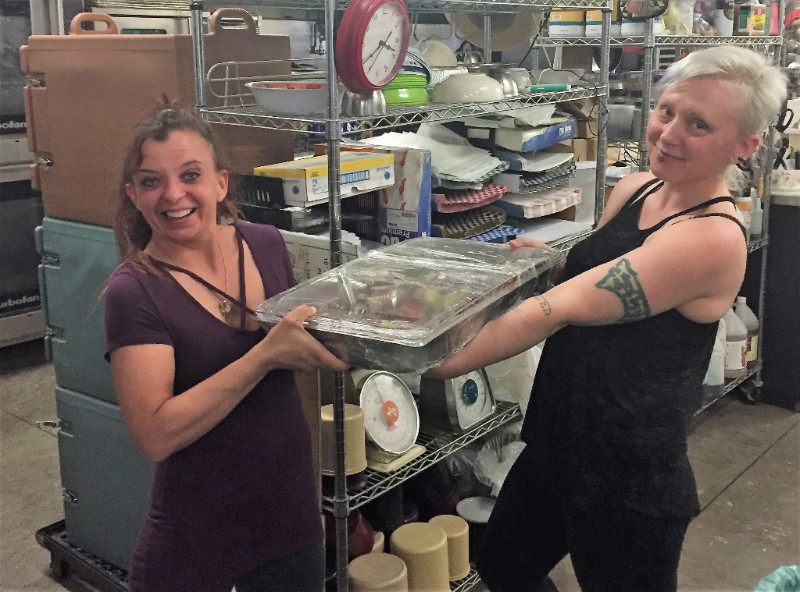 That stats & solutions of food waste
By Mark Peterson
When it comes to the issues facing our earth today, unfortunately there is no shortage of topics to choose from. As my regular blog readers know, my professional pursuits for the past half-decade have mostly centered around waste reduction. This one topic alone would provide me with enough monthly blog fodder for the next several years. With a goal to provide various perspectives, I struggle to determine what is most relevant at this particular time; what does our community yearn to learn more about; or maybe a topic many haven't heard about that needs some day-lighting.
This month I had a topic I felt was one many of us don't really think about: textiles. In my numerous readings since my last post, I came upon the statistics of just how vast this particular waste stream is. In 2014, over 16 million tons of textile waste was generated, according to the U.S. EPA. Of this amount, 10.46 million tons were sent to the landfill, meaning less than 20% of this particular waste steam was recycled. But, while fast fashion is leading us down a road to nowhere, it's not the road we will be exploring this month.
Instead, I'm stepping back onto my wasted food soap box. You may be tiring of this subject, but I had to give it one more go around before I give it a rest. Why? Because wasted food is no joke. And here is where I come clean to you, my valued readers. I have seen the stats; I have changed my habits at home and in the grocery store; but yet there was still a part of me that was a bit dubious. I thought to myself more than once, "We waste 40% of edible food–really? Where and how is this happening? Because it isn't happening at my house. Is this all a hoax?" (Okay, I didn't really think that.) But I did wonder if the depth of the problem is overstated.
Last month I wrote in this space about grant reporting and how it was sometimes a drag, but I am working to change my perspective to appreciate the value in it. This is another month where I get a chance to reflect on my work here at Sustainable Connections, and the end result is eye popping. Before I get to the numbers part of this post, I will say that what those numbers reveal is both really encouraging and really disheartening at the same time.
The good–dare I say fantastic–news is that we have already far exceeded our goal for the number of pounds of food and meals served through our Food Recovery Initiative. In just over nine months of concerted effort we have recovered and diverted from landfill 13,781 pounds of food, resulting in 8,761 pounds of food fit for human consumption, which equates to 6,739 meals served to those experiencing hunger insecurity. The remaining 5,020 pounds of additional food went to feed animals.
So, what is the disheartening news you ask? I'm going to give it to you straight. The depth of the wasted food problem is massive, pervasive, and systemic. To illustrate what I mean, the above great statistics are about the amount of food we have recovered from JUST SIXTEEN restaurants and food purveyors in Whatcom County. Considering we have over 250 establishments serving food in one form or another, the amount of ongoing wasted food in our community is staggering to think of.
To help prevent my brain exploding from one more seemingly insurmountable global problem, I am reverting to my project management training and thinking in terms of a SWOT (strengths, weaknesses, opportunities, and threats) analysis. In the middle of the SWOT acronym is Opportunity, and in the case of wasted food, there is tons of opportunity–literally. Along with the many collaborators for our Food Recovery Initiative, I can assure you that we aren't done yet…and there is more good news to come. Through effort, hard work, and awareness, we are going to make an even bigger difference in the next year and beyond. And this my friends, is also no joke!
To learn how to get your food business involved in the Food Recovery Initiative, check out our website.
And if you want to learn what you can do at home, we also have resources for individually 'squatching' food waste.
If we work together, we can make that 40% statistic a thing of the past.