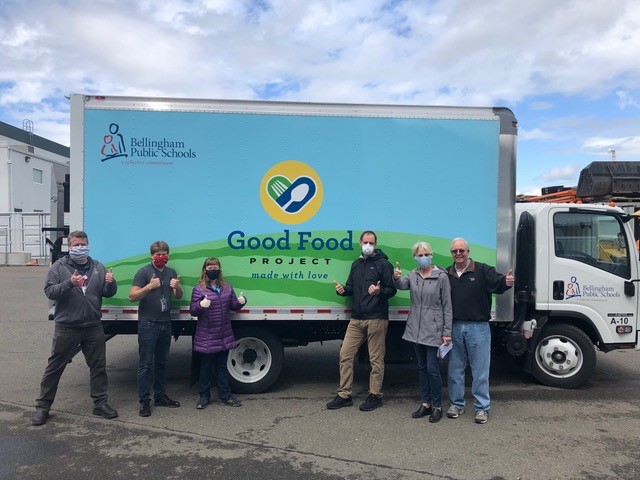 Bellingham Public Schools has proven to be a leader in reducing food waste and better serving our community members and families in need. Together with Sustainable Connections' Food Recovery Program, they started donating surplus food in 2019. To date, they have donated over 29,000 lbs. of food!
At the beginning, donations included frozen cafeteria line items, short dated bulk items, and loads of little milk cartons from when schools shut down last spring.
Currently, families that pick up meal boxes each week can bring back non-perishable food from the previous week that they did not eat. This food is then picked up by Food Recovery Program volunteers and routed to several hunger relief agencies in Whatcom County. 
Also, through their phenomenal Food Services Program, leftover food from school cafeterias is picked up and shared with those in need through the distribution efforts of local hunger relief partners. In addition, weekly pandemic meal boxes are distributed to families across twelve school locations and six community locations. Bellingham Public Schools' partnership helps all community members access high quality, nutritious food while also reducing waste by keeping food out of landfills. Thank you Bellingham Public Schools!
Donating 29 lbs of food instead of sending it the landfill saves 13 million gallons of water from being wasted
More than 24,000 meals served to aid hunger relief
Donated to 10 local hunger relief agencies including: Miracle Food Network, Northwest Youth Services, and Lummi Nation
Brings Food Waste Reduction awareness to staff and students
Learn how you can reduce wasted food:
Work in the food industry? The Food Recovery Program reduces food insecurity and addresses climate change by recovering and redistributing nutritious surplus food to neighbors in need.
Want to reduce your carbon foot print? The Squatch Food Waste program addresses climate change by encouraging people to reduce food waste at home.
Interested in starting a food recovery program in your own town? We've got the framework to get you started.